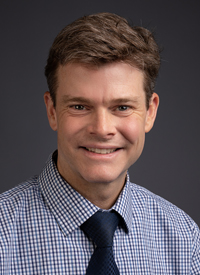 Currently not accepting new patients
Dr. Curtis serves as the Medical Director for the Weight Loss Program. His areas of interest include: hyperlipidemia/preventive cardiology, stress tests, diabetes, and weight loss.
Language(s) - English
When he's not seeing patients or spending time with his family, he enjoys riding mountain bikes, hiking, reading, tennis, and travel.
Fellowship
Preventive Cardiology, St Luke's Hospital and Mid-American Heart Institute
Residency
University of Missouri - Kansas City
Education
M.D., Vanderbilt University School of Medicine-Nashville TN 1997
Certification
American Board of Internal Medicine
Clinical Research
July 2015:  RD002154 – Performance Evaluation and User Performance Evaluation of Zenith/CoaguChekR INRange
Dec 2014:  D588C00004 – A Long-Term Outcomes Study to Assess STatin Residual Risk Reduction with EpaNova in HiGh Cardiovascular Risk PatienTs with Hypertriglyceridemia (STRENGTH)
Mar 2012:  Warfarin Adverse Event Reduction For Adults Receiving Genetic Testing at Therapy INitiation (WARFARIN)
July 2010: A Phase 3, randomized, double-blind, double-dummy, parallel group, multi-center, multi-national study for evaluation of efficacy and safety of DU-176b versus warfarin in subjects with atrial fibrillation.  Protocol DU176b-C-U301
April 2009: A phase III randomized, double blind, parallel-group study of the efficacy and safety of oral dabigatran etexilate (150 mg bid) compared to warfarin (INR 2.0-3.0) for 6 month treatment of acute symptomatic venous thromboembolism, following initial treatment for at least 5 days with a parenteral anticoagulant approved for this indication. Boehringer Ingelheim, Re-Cover Protocol 1160.46
Jan 2009: A long term multi-center extension of dabigatran treatment in patients with atrial fibrillation who completed the Re-ly trial and a cluster randomized trial to assess the effect of a knowledge translation intervention on patient outcomes. Boehringer Ingelheim, Rely-Able Protocol 1160.71
Dec 2008: An 8-week randomized, double-blind, parallel-group, multicenter, active-controlled dose escalation study to evaluate the efficacy and safety of aliskiren HCTZ (300/25 mg) compared to HCTZ (25 mg) in older patients with stage 2 systolic hypertension. Novartis Pharmaceuticals Protocol CSPP100A2411
Jan. 2006: Randomized Evaluation of Long term anticoagulant therapy comparing the efficacy & safety of 2 blinded doses of dabigatran etexilate with open label warfarin for the prevention of stroke and systemic embolism in patients with non-valvular atrial fibrillation, Boehringer Ingelheim, RE-LY Protocol 1160.25
July 2004:  A Phase III, Randomized, Double-Blind, Placebo-Controlled, Multicenter, Study of Rosuvastatin (Crestor®) 20 mg in the Primary Prevention of Cardiovascular Events Among Subjects with Low Levels of LDL-Cholesterol and Elevated Levels of C-Reactive Protein. 4522US/0011, IND 56,385, AstraZeneca, Project Director: Paul M. Ridker, M.D., MPH, FACC.
Sept. 2001: Clinical Investigator Training, the Corvallis Clinic, P.C., Corvallis, OR
Publications
Curtis BM, O'Keefe JH Jr., "Understanding the Mediterranean diet. Could this be the new "gold standard" for heart disease prevention?" Post grad Med. 2002 Aug; 112(2):35-8, 41-5. Review PMID: 12198752 [PubMed – indexed for MEDLINE]
Curtis BM, O'Keefe JH Jr., "Autonomic tone as a cardiovascular risk factor: the dangers of chronic fight or flight." Mayo Clinic Proc. 2002 Jan; 77(1):45-54. Review PMID: 11794458 [PubMed – indexed for MEDLINE]
2000: "Should an ACE Inhibitor be Standard Therapy for Patients with Atherosclerotic Disease?" Journal of the American College of Cardiology.
1996: "Comparison of Gene Expression Following Delivery to Endothelial and Epithelial Cells in vitro Using Cationic Liposomes." The Journal of Lipsome Research, .
1992: "The Economics of National Health Care Reform" Dept. of Economics, Rhodes College, .
Click on the appropriate link below to enter your provider's telemedicine waiting room for your scheduled appointment.