Bryce Allio, M.D.
Urology
New patients by referral
"I endeavor to provide the kind of care that I would provide to my father or my mother"
Dr. Allio practices the full breadth of general urology, including oncology and stone disease. He also offers reconstructive urology, and endoscopic and robotic-assisted surgery.
Language(s) - English
As far back as Dr. Bryce Allio can remember, he always wanted to be a physician. "I always enjoyed science and biology, and adding patient interactions with these subjects always seemed like the only track for me."
He decided to specialize in urology at a conference where he heard urologists discuss reconstructing the urinary tract of someone who had their bladder removed due to cancer. "It seemed to me one of the most interesting things I heard of any surgeon doing."
Dr. Allio finds robotic-assisted surgery especially exciting. "It's essentially a laparoscopic surgery. But the mechanisms are controlled through a robot that the surgeon controls, which allows for more detailed movements of the laparoscopic instruments. Patients experience less discomfort and quicker recovery times, with better quality-of-life outcomes usually. It's exciting to be on the cutting edge."
Outside his practice, Dr. Allio and his wife enjoy the outdoors. "Any three-day weekend we're going back packing, no matter what the weather."
Residency
Urology, Duke University, Durham, NC, 2019
Internship
General Surgery, Duke University, Durham, NC, 2014
Education
Doctor of Medicine, University of Rochester, Rochester, NY, 2013; Bachelor of Science in Biomedical Engineering, University of Rochester, Rochester, NY, 2009
Certification
Eligible – The American Board of Urology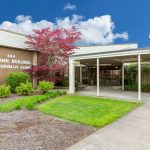 444 NW Elks Drive
Corvallis, OR 97330
Map/Directions
Papers
Urodynamic and physiologic patterns associated with the common causes of neurogenic bladder in adults. Allio BA, Peterson AC. Transl Androl Urol. 2016 Feb;5(1):31-8. doi: 10.3978/j.issn.2223-4683.2016.01.05. Review.
A Rat model for the evaluation of urodynamic changes following induction of Radiation Cysitis. Allio BA, Frasier M, Peterson AC. In final edits with ongoing confirmatory experiments.
Nanoparticle coatings for enhanced capture of flowing cells in microtubes. Allio BA, Han W, Foster DG, K ing MR. Department of Biomedical Engineering, University of Rochester, Rochester, New York 14627, USA. Published in A CS Nano. 2 010 Jan 26;4(1):17480 Poster Presented at the American Chemical Society summer symposium 2009
Abstracts
Urinary Retention After Male Transobturator Sling Resolves Spontaneously Without The Need For Surgical Intervention. Abstract Presented at AUA Southeast Section 2016
Ureteral reimplantation by bladder elongation and psoas hitch (BEPH) through a Gibson incision has low morbidity, is safe, and effective in treatment of distal ureteral strictures. Abstract Presented at AUA Southeast Section 2016
Accuracy of Upper Urinary Tract Urothelial Carcinoma Staging Prior to Nephroureterectomy. Emma Bendaña, Scott Tobis, Sriram Venigalla, Bryce Allio, Jean Joseph, Hani Rashid, Guan Wu, Edward Messing and Dragan Golijanin. Department of Urology, University of Rochester Medical Center, Rochester, NY 14642 Abstract Presented 2011
Presentations
A Rat Model for the Prevention of Radiation Cystitis via Intravesical Treatment. Podium Speech, April 2016 at the Pelvic Medicine Research Consortium
Analysis of forces encountered by endovascular stents in the popliteal artery, an understanding for purposeful design. Allio BA, Foxx KF, Sulkin M, Lerner A. Presented at Biomedical Engineering Symposium at the University of Rochester. May, 2008
Patents
United States Patent No: 0167372 A1 July 1, 2010 Device and Method for Separation, Concentration, and/or Purification of Cells. Inventors: MR King, DG Foster, BA Allio, W Han