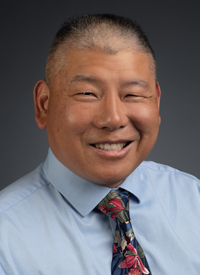 Language(s) - English
Personal: Biking, hiking, and skiing.
Fellowship
Tulane University, New Orleans, LA
Residency
University of California Los Angeles, Los Angeles, CA
Education
M.D., George Washington University, Washington, D.C. - 1992
Certification
American Board of Ophthalmology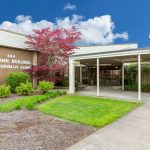 444 NW Elks Drive
Corvallis, OR 97330
Map/Directions
Press Ganey Patient Ratings
The Patient Rating score is an average of all responses to care provider related questions on the nationally-recognized Press Ganey Patient Satisfaction Survey.
About the Press Ganey Survey Responses are measured on a scale of 1 to 5 with 5 being the best score.
---
Press Ganey Survey Comments From Patients
Mar 2018
Dr. Huang is knowledgeable and I completely trust his advice.
Mar 2018
I like Dr.huang very much. I have seen him for my eye care for many years.
Mar 2018
Dr. was highly recommended. Just as I heard he was – Excellent – He knew his STAFF.
Mar 2018
This was an annual eye exam. Dr. Huang & his staff always remember who you are & are always so friendly & sincere. Enjoyable personalities. Makes you feel comfortable & welcome.
Mar 2018
Dr. Huang is a breath of fresh air in an era of complex and multifaceted health care. His professionalism and personal concern for me is outstanding! I so appreciate Corvallis Clinic & Dr. Huang!
Feb 2018
Everyone in the office was very helpful, and professional. Dr. Hueng was thorough, personable and explained my condition at length. My experience was very good.
Feb 2018
I've been a patient with Dr. Huang for YEARS and I will rate him AWESOME!
Jan 2018
Dr. Huang is a terrific doctor. I HIGHLY recommend him. Super nice and extremely competent.
Jan 2018
Always a gentleman going through my history and explaining to me how my eye test went and to return in a year.
Dec 2017
Dr. Huang and his staff are great! I trust him completely with my eye care.
Dec 2017
My self-assessment of some vision problems led me to worry about eye damage. He explained the nature of my symptoms and set my mind at ease.
Dec 2017
We are fortunate to have Dr. Huang MD in Corvallis, Oregon!
Dec 2017
Dr. Huang is an excellent doctor. He listens explains and is a very good listener. He also has an excellent staff.
Dec 2017
Dr. Huang always gives me a diagnosis and follows up with a treatment plan. He is always congenial and ready and willing to answer my questions.
Nov 2017
Was my 1st visit to Dr. Huang for ophthalmology yearly appointment. I'll be happy to see him 1 year from now.
Nov 2017
I really enjoyed meeting and discussing my concerns with Dr. Huang and his staff and was very satisfied with their services.
Nov 2017
Dr. Huang is very professional and attentive to any questions or concern. Very pleased with the care provided.
Nov 2017
Dr. Huang and his staff were pleasant and paid attention to detail.
Oct 2017
The care that I receive from Dr. Huang and staff is excellent.
Oct 2017
Dr. Huang is outstanding. He is professional and competent, patient and attentive, and I am recommending him to everyone I know. He is a great asset to the healthcare system
Sep 2017
I have seen Dr. Huang yearly for the past 4 years and have always been treated well.
Sep 2017
Dr.Huang has provided excellent services for as long as I have been his patient.
Sep 2017
Dr. David Huang MD (Ophthalmologist) is an outstanding doctor. He has always held my utmost confidence.
Sep 2017
The Best Eye Doctor I have ever had.
Sep 2017
Dr.Huang is an excellent eye care provider. I trust him completely with the care of my eyes.
Aug 2017
He's a fantastic doctor and always so kind.
Aug 2017
Excellent Physician and excellent care!!
Jul 2017
I have known Dr. Huang for years, and he is always very personable and truthful with me. I would recommend him to anyone who has vision problems.
Jul 2017
He listens is caring, compassionate, concerned and a wonderful person as well as a very good doctor.
Jul 2017
Dr. David T. Huang MD is the very BEST!
Jul 2017
I was referred to Dr. Huang for an eye exam for symptoms that may have indicated a serious problem. I was seen promptly, given an examination and feedback afterwards. Everyone was pleasant, professional, and attended to my concerns. I was very impressed with Dr. Huang and his support staff.
Jul 2017
Dr Huang and his staff were knowledgeable and personal.
Jun 2017
Dr. Huang is obviously very expert in his fields. he doesn't waste any time during visits.
Jun 2017
Very professional assistants and doctor. Pleasant to me.
Jun 2017
I have the utmost confidence in Dr. Huang and he does an excellent job of listening and explaining.
Jun 2017
My provider was very experienced in the eye condition I was being seen for. He knew of my concern and described in detail that my corneas looked excellent with no current abrasions.
Jun 2017
He is the best you can find in his field. no matter how simple or complex question is, he always has a great way of answering it without making you feel bad
Jun 2017
This was an annual eye exam. The exam was complete and done in a professional manner by both the doctor and the assistant. I was seen on time and was finished without any delays.
Jun 2017
Dr. Huang has my deepest respect. I had previously been seeing a horrible ophthalmologist who was completely uneducated on my medical condition. She threatened to send me to a psychiatrist, saying it was not at all painful. When Dr. Huang first walked into the room, he looked at me from across the room and asked me if I was in pain. He could see the inflamed condition of my eye from that far away. He immediately had my deepest gratitude and respect — which continues to this day.
May 2017
Dr. Huang has been excellent to work with, I have had cataract transplant surgery and he is my follow up to monitor how my eyes are doing. He was the Dr. who saw I had the problem and referred me to a Dr. in Portland who performs the surgery. He and his staff are very good to work with and to help with my eye care in general. I have the utmost respect for him.
May 2017
Dr. Huang is always professional & friendly & very well informed! I like him!
May 2017
I have told friends about this provider and the excellent care I have received, and how great he was with my Mother until she was 100. Two of my friends have had their cataracts taken care of by this provider and have had only good to say about him.
Feb 2017
VERY pleased with Dr. Huang's care! Glad to have found such a good doctor.
Feb 2017
Dr. Huang has been my doctor for years. I have had a lot of problems with my eyes and have all the confidence in his ability to help me. I have recommended him to several people I know.
Feb 2017
He seemed competent but very brusque. I like directness, but also some encouragement.
Feb 2017
Dr. Huang inspires confident – he is very easy to talk to – congenial as well as a consummate professional.
Jan 2017
I have never had a bad experience. Dr. David Huang is a very good Dr.
Dec 2016
I would not go to any other doctor for my eye care. He is one of the best doctors I've been to.
Dec 2016
Dr Huang is a wonderful doctor. Extremely professional, straight forward, kind and competent. I have seen him twice before and would highly recommend him. I only see him when I have a problem and yet he treats m like I come in every week! He not only answered my questions but wrote things down for me when I asked him. He is a fantastic doctor.
Nov 2016
I am totally pleased and satisfied with him. I think he did a great job and the staff also.
Oct 2016
Dr. Huang has taken care of my eyes for many years and I am very pleased with his care and concern.
Sep 2016
I liked the doctor very much, he was easy to understand and made everything clear.
Sep 2016
Excellent eye surgeon, doctor. Certainly knows his business, very skilled and personable.
Sep 2016
He is excellent and very easy to communicate with.
Sep 2016
Very satisfactory visit with a highly skilled professional who seems to care about his patients.
Sep 2016
Dr. is awesome
Jul 2016
I was very impressed with Dr. Huang.
Jun 2016
Great doctor! Explained EVERYTHING in detail! And thankful for all his concern and help!
May 2016
Great doctor! Totally trust him.
May 2016
Dr. Huang (& company) are the best!
May 2016
I'm totally satisfied with Dr. Huang & his whole office force.
May 2016
I am always treated with warmth and respect here from everyone. great staff and wonderful doctor. I won't go anywhere else.
Apr 2016
Excellent experience; I left my two previous ophthalmologists because they didn't listen to me and did not fix my vision problems.
Apr 2016
He is thorough and always answers my questions and explains things.
Mar 2016
Dr. Huang is great – very compassionate.
Jan 2016
I have recommended this care provider to two friends who now use this care provider and think very highly of them.