"Every person is different and needs something unique. As a provider, I need to figure out what that is."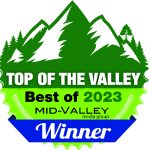 In addition to providing primary care, Dr. Dorris specializes in osteopathic manipulative medicine, medical acupuncture, and a wide variety of musculoskeletal injections – corticosteroid injections, regenerative joint injections (Prolotherapy), and trigger point injections.
Language(s) - English
Jalien Dorris, DO, is originally from central California. She was born in Redwood City but spent most of her childhood in the Sacramento area. In 2004, Dr. Dorris completed a Bachelor of Science in Biological Sciences and minors in music, nutrition, and chemistry from the California State University of Chico in Chico, California. She was awarded a full scholarship to medical school in 2005 through the United States Air Force Health Professions Scholarship Program. In 2009, she graduated with a degree in Doctor of Osteopathic Medicine from Des Moines University in Des Moines, Iowa. After this, she completed her Family Medicine Residency at Eglin Air Force Base in Florida from 2009-2012, where she was chief resident. She then transferred to North Las Vegas, Nellis Air Force Base, Nevada, and spent four additional years as an active duty physician with the United States Air Force.
While practicing full-scope family medicine at Mike O'Callaghan Medical Center at Nellis AFB, she partook in academic medicine as an adjunct family medicine residency faculty, delivered babies, and performed the most procedures (injections, skin lesion removals, manual manipulation, vasectomies, etc.) during a 12-month period of any provider in the clinic. She was also the Medical Director of the Family Health Clinic for two years, thus managing over 30 providers in the largest family medicine clinic in the Air Force.
In addition to traditional medicine, she adds a layer of depth to her practice by offering medical acupuncture. She trained under Joseph Helms, MD, and the Helms Acupuncture Institute in medical acupuncture in 2016.
Finally, from 2016 to 2020, Dr. Dorris had the pleasure to practice rural medicine at the Siletz Community Health clinic. She thoroughly enjoyed her 4-year position with the Siletz Tribe, where she brought a wide array of skills to a rural population. During her tenure, she worked with a team to develop the first Tribal Medication Assisted Therapy Program (MAT) for patients addicted to heroin or opioids.
For Dr. Dorris, interest in the medical field started as a child when she watched medical shows with her father. She decided to follow the osteopathic route because it is whole body/person focus, which she wanted to provide to her patients from the beginning of her career.
Patients of Dr. Dorris can expect her to demonstrate kindness, patience, compassion, understanding, and active listening. She believes each patient has unique needs and requires a treatment plan tailored to these needs.
Dr. Dorris, her husband, and two boys moved to Oregon after separating from the Air Force in 2016. Oregon attracted them due to the natural beauty and outdoor activities it offers their family. They live in Philomath on a 3-acre farm where Dr. Dorris practices permaculture and organic gardening. The Dorris family enjoys going on hikes, exploring the Oregon coast, and enjoying home-cooked organic meals.
Residency
Eglin Family Medicine Residency, Eglin AFB, FL, 2009-2012
Education
Doctor of Osteopathy, Des Moines University, Des Moines, IA, 2009; Bachelor Science in Biological Sciences, California State University, Chico, Chico, CA, 2004
Experience
The Corvallis Clinic, 2021-Present; IHS Staff Physician, Siletz Community Health Clinic, 2016-2020; Family Health Clinic Medical Director, Mike O'Callaghan Federal Medical Center, 2015-2016; Family Medicine Staff Physician, Mike O'Callaghan Federal Medical Center, 2012-2016
Certification
American Board of Family Medicine
Jalien K. Dorris, DO Video