Limited availability for new patients
"I can now give back to my patients what I was given growing up"
In the family medicine tradition, Dr. Robinson provides care for all ages - from newborns to the elderly. He develops treatment plans for acute and chronic diseases and educates and guides patients on disease prevention and healthy lifestyle habits.
Language(s) - English
As a child, Dr. Robinson faced many health challenges. "I got into medicine because of what I went through as a kid." And family medicine, taking care of people from birth to old age, just felt "right" to him.
He sees a patient as a person, not a number. "I hope my patients view my office as more like a home, a medical home. And that they know my staff and I care for them and want to figure out what's wrong and help them through the process; because, finding a diagnosis can be a challenging and scary time for people."
Outside his practice, Dr. Robinson enjoys being outdoors and travelling with his wife.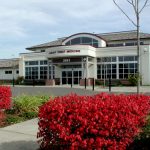 1705 Waverly Drive SE
Albany, OR 97322
Map/Directions
Residency
University of Oklahoma College of Medicine, Tulsa, OK, 1996
Education
Doctor of Medicine, Oregon Health Sciences University, Portland, OR, 1993
Experience
The Corvallis Clinic, 1998 - Present; West Hills Health Care Clinic, McMinnville, OR, 1996-1998
Certification
American Board of Family Medicine
Patient Ratings
The Patient Rating score is an average of all responses to care provider related questions on the Patient Satisfaction Survey.
About Survey Responses are measured on a scale of 1 to 5 with 5 being the best score.
---
Comments From Patients
Mar 2018
I always have a good experience with my provider, always answers my questions.
Mar 2018
Very understanding. Dr. Robinson is a very good Doctor and so is his nurse Ronda excellent.
Mar 2018
Always good with Dr. Robinson
Feb 2018
Dr. Robinson knows my history and gives me his time and necessary medical help.
Feb 2018
Dr. Robinson is fantastic!
Jan 2018
Dr. Robinson listened to my concerns & treated me w/respect.
Jan 2018
Dr. Robinson is always willing to answer questions.
Oct 2017
Dr. Robinson and his staff are truly the best! Always respectful, kind and takes the proper time to listen to my medical concerns.
Sep 2017
I always have a good experience every time I visit my care provider. He answers my questions well.
Aug 2017
When I go to Dr. Robertson I get very good care. He is always concerned about my physical and mental state.
Aug 2017
I appreciate how Dr. Robinson is truly a family Dr. He always takes a minute to ask how the kids are. That means a lot to me as a mom, just the fact that he remembers their names and what is going on in their lives says a lot.
Apr 2017
Dr. Robinson explains medical information in layman terms that I can understand.
Feb 2017
Dr. Robinson is always friendly and caring. Really listens and takes enough time with you to answer all your questions. Never seems in a rush to get you out the door, I like that about him.
Feb 2017
Great Doctor.
Dec 2016
Dr. Robinson is a pleasure to be around. We hit it off very well. A very nice man.
Dec 2016
I'm very pleased with my provider!
Oct 2016
Once you are seen by a physician the treatment is exemplary and the other personnel are always very helpful.
Sep 2016
Dr. Robinson really cares about his patients and the number one thing that I feel makes him stick out from other providers is that he listens. He really takes in the consideration of what the patient wants instead of trying to "force" meds on a patient. Overall, he is an excellent provider and I know when I go in I am not going to feel rushed and I know it is a "safe-place" to be open about my health care, especially my mental health.
Aug 2016
I always recommend this office to my friends and family, especially Dr. Robinson. He genuinely cares about his patients as well as all of the other staff I have encountered.
Jul 2016
I like my Doctor, he is a very nice person but did not feel like I got the answers or direction (next steps) that I needed to find a resolution for the problem I came in to see him for. Often, I have to pry and ask questions for things that I feel he should be volunteering automatically.
Jun 2016
Dr.Robinson is the best
May 2016
The doctor was very professional and personable. Good experience. No problems or complaints.
Mar 2016
Like the Dr.
Mar 2016
I have been going to Jeff for years I trust him…
Feb 2016
I have always had a good experience. Dr. Robinson is a great Dr.
Jan 2016
Dr. Robinson is an excellent doctor. He listens to you and he genuinely cares about his patients.
Click on the appropriate link below to enter your provider's telemedicine waiting room for your scheduled appointment.
Jeffrey E. Robinson, M.D. Video