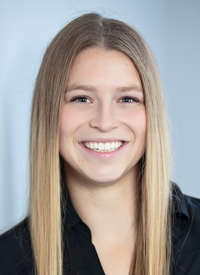 "Watching an athlete excel after injury is the most rewarding aspect of athletic training."
Jenica Davis, LAT, ATC, is a licensed athletic trainer for Philomath High School who works with Orthopedics & Sports Medicine to provide injury prevention and treatment, emergency care, clinical diagnosis, therapeutic intervention, and rehabilitation services.
Language(s) - English
Jenica Davis grew up in Corvallis and was heavily involved in sports throughout her childhood and high school years. She went on to play intercollegiate softball at Linfield University, where she also studied Athletic Training. Upon finishing her B.S. in Athletic Training, she continued her education at Oklahoma State University and received her Master of Health Care Administration.
As Ms. Davis pursued her Master's degree, she worked as an Assistant Athletic Trainer at Utah Valley University and then went on to serve as the primary Athletic Trainer for Brigham Young University's Softball team. She has years of experience providing medical care, treatment, and rehabilitation services to college athletes and high school athletes alike, spanning a variety of sports.
Amazed by the capabilities of the human body (and having experienced sports injuries firsthand), Ms. Davis had an early interest in the medical field. She wanted to find a career that combined healthcare and sports, which led her to pursue athletic training. "After being introduced to athletic training, I was hooked by the opportunity to spend time on the field, connect with athletes, gain first aid knowledge, expand my medical abilities, and help players return to the sports they love," Ms. Davis recalls. Having spent several years working with college softball teams, Ms. Davis developed a continued interest in how mechanics play a large role in a healthy athlete and avoiding overuse injuries. She enjoys studying and correcting mechanical deficits in athletic movement and helping athletes develop core strength to increase their performance and efficiency.
"While rest is incredibly important, movement is healing. I believe in keeping athletes active while modifying stresses necessary to heal," said Ms. Davis. "Because of this, patients and athletes can expect to rehabilitate injuries with a plan that will help them return to the field, court, pool, etc., as soon as possible." Ms. Davis connects well with patients/athletes on a personal level to help them feel listened to and understood.
In her personal time, Ms. Davis enjoys playing pickup basketball and catch, exploring the outdoors with her husband and dog, participating in her church community, and playing a little piano.
Education
Master of Health Care Administration, Oklahoma State University Center for Health Sciences, 2022; Bachelor of Science, Athletic Training, Linfield College, McMinnville, OR, 2018
Experience
Athletic Trainer - Fellow, Brigham Young University, Provo, UT, 2019-2022; Assistant Athletic Trainer, Utah Valley University, Orem, UT, 2018-2019; Athletic Training Student, Linfield College, McMinnville, OR, 2015-2018
Certification
Certified Athletic Trainer by Board of Certification (BOC)