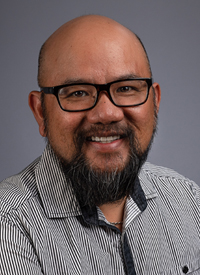 "In orthopedics, you help folks return to activities they treasure the most."
Mr. Navarro first assists for such surgeries as total joint replacement, shoulder and knee arthroscopy, and fracture repair. He also provides surgical follow-ups, fracture management and joint injections, orders and interprets diagnostic tests, and prescribes medications and therapy.
Language(s) - English
With a teaching background, John Navarro's approach to care is education-focused. He says a major focus of his is explaining what is going on in terms the patients can understand in order to accomplish their goals.
"Whether it is walks with their loved ones, playing with the grandkids, returning to work, or taking care of their yard, orthopedics is about returning (patients) to their life."
A musician/songwriter, Mr. Navarro lives on a small homestead with his wife and children.
Education
Masters of Science in Physician Assistant Studies, Touro University, Vallejo, Calif., 2006; Masters of Public Health, Touro University, 2006; Bachelor of Arts in Biological Sciences, University of California, Davis, 1992
Certification
National Commission on Certification of Physician Assistants