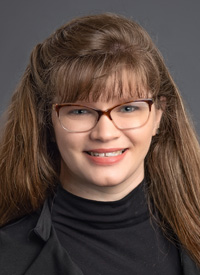 "I want rehab to be purposeful and meaningful so that each person is set to meet their individual goals."
Language(s) - English
Kate Macer, DPT, was born in Idaho and spent most of her childhood in Coeur d'Alene, which instilled her love of the northwest. She then moved to Arizona, where she spent much of her time playing sports, primarily basketball, softball, volleyball, and track and field. She even won a state championship in the discus.
When asked what she wanted to be growing up, she always answered, "I wanted to be happy and make a difference." A combined love of movement, sports, and the human body with a passion for helping others made it clear that being a physical therapist was her destiny early on.
Kate received her Bachelor of Science in Exercise Science with minors in biology and chemistry and her Doctor of Physical Therapy degree from Northern Arizona University. She initially planned to work in pediatrics but eventually found a love for manual therapy and the power of human movement to resolve global body dysfunctions, which led her to outpatient physical therapy.
Kate believes her practice should always be patient-centered, stating, "I want to hear from the patient what is happening so that I can help design the best testing and treatment program that will facilitate them toward their goals." One of Kate's most significant strengths as a physical therapist is her ability to educate her patients. She wants each person to know the "why" of their condition and the "why" behind performing each treatment intervention.
When Kate is not working, she enjoys spending time with her husband and son, adventuring, and playing board and card games. Her hobbies are reading and crafts, including crocheting, knitting, sewing, scrapbooking, and cross-stitching.
Education
Doctor of Physical Therapy, Northern Arizona University, Flagstaff, AZ, 2013; Bachelor of Science, Exercise Science, Northern Arizona University, Flagstaff, AZ, 2010
Experience
OrthoArizona, Chandler, AZ, 2020-2023; Deptford Center for Rehabilitation, Woodbury, NJ, 2020; Banner Healthcare, Casa Grande, AZ, 2019-2020; Genesis Rehab, Cape May and Freehold, NJ, 2018-2019; Sharon Care Center, Centralia, WA, 2018; Vibrantcare Rehabilitation, Tucson, AZ, 2018; Athlon Physical Therapy, Tucson, AZ, 2016–2017; IDEAL Physical Therapy, Tucson, AZ, 2013-2016
Certification
Board Certified Physical Therapist