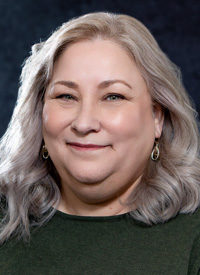 "It has been my passion to develop and maintain relationships with my patients through care coordination"
As nurse navigator, Ms. Nepper offers education and individualized assistance to cancer patients and their families to help overcome healthcare system barriers.
Language(s) - English
While growing up, Ms. Nepper's father had serious health issues, and she and her family would spend months at the University of Minnesota Medical Center. "My father was very ill with diabetes, renal failure, and kidney transplant complications," she said. "The nursing staff and doctors we had come to know over many years and their support was incredibly helpful to our family."
Due to this experience, she chose careers in nursing that would allow her to establish long-term relationships with patients. "I feel honored to be able to support and care for my patients who are going through similarly stressful times," she said. "I cannot predict the outcome, but I can be there to support and make the journey easier for them."
Ms. Nepper, who has three grown children, said she enjoys cooking and spending time with family and friends. "I am well known for my brood of dachshunds," she said. "I started with six of them 17 years ago and am now down to one, Big Dewey."
Education
Diploma in Nursing, Lutheran Deaconess Hospital School of Nursing, Minneapolis, MN, 1979.
Experience
Nurse Manager, Oncology Department, The Corvallis Clinic, 2016-2017; Registered Nurse, Care Coordination, The Corvallis Clinic, 2015-2016; Pediatric Staff Nurse/Neonatal Intensive Care Unit Float Nurse, St Charles Hospital, Bend, OR, 20008-2013; Staff Nurse (part time), Adult Surgical/Pediatric floor, St Charles Hospital, Bend, OR, 2002-2008; Registered Nurse (part time), Evergreen In-Home Care, Bend OR, 2002-2008; Pediatric Staff Nurse, Samaritan Hospital, Watertown, NY, 1999-2001; School Nurse, Watertown, NY, School District, 1999-2001; Staff Nurse for Pediatric Hematology/Oncology Clinic, Michigan State University Clinical Center, Lansing, MI, 1989-1993; Pediatric Nurse (half time), E.W. Sparrow Hospital, Lansing, MI, 1989-1993; Registered Nurse, University of Minnesota, Department of Pediatric Oncology, Minneapolis, MN, 1979-1989.
Certification