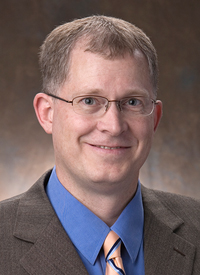 Kyle M. Van De Graaff, MD
Dermatology
Accepting new patients
"Skin care is about paying attention to the smallest of features."
Dr. Van De Graaff seeks to use simple, clear terms when explaining to his patients the care and treatment they are receiving, whether for acne, dermatitis, skin cancer, or other dermatological conditions. He is a member of the American Academy of Dermatology (AAD).
Language(s) - English, Spanish
Dr. Van De Graaff's attention to detail is not lost on his patients when he addresses their skin, hair and nail concerns. In their written comments over the years, they have often used the terms "very professional" and "thorough"  to describe him.
But they also appreciate his approachable demeanor, calling him "patient," "kind," "friendly," and "courteous."  And the respect goes both ways as Dr. Van De Graaff says he relies on patient input to tailor his treatments to fit lifestyles, schedules and budgets.
A veteran, he separated from the U.S. Air Force with the rank of major. In his spare time, Dr. Van De Graaff enjoys bicycling, photography,and spending time with family.
Residency
Dermatology, Wilford Hall Medical Center, Lackland Air Force Base, Texas, 2004
Internship
Internal Medicine, Wilford Hall Medical Center, Lackland Air Force Base, Texas, 1998
Education
Doctor of Medicine, University of Texas Health Science Center, San Antonio, 1997
Experience
The Corvallis Clinic, 2010 to current; Dermatology Specialists of Omaha, Omaha, NE; Chief of Dermatology, Offutt Air Force Base, Nebraska; Fight Surgeon, U.S. Air Force
Certification
American Board of Dermatology
Click on the link below to enter your provider's telemedicine waiting room for your scheduled appointment.