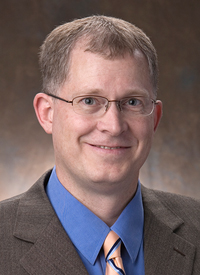 Kyle M. Van De Graaff, M.D.
Dermatology
Accepting new patients
"Skin care is about paying attention to the smallest of features."
Dr. Van De Graaff seeks to use simple, clear terms when explaining to his patients the care and treatment they are receiving, whether for acne, dermatitis, skin cancer, or other dermatological conditions. He is a member of the American Academy of Dermatology (AAD).
Language(s) - English, Spanish
Dr. Van De Graaff's attention to detail is not lost on his patients when he addresses their skin, hair and nail concerns. In their written comments over the years, they have often used the terms "very professional" and "thorough"  to describe him.
But they also appreciate his approachable demeanor, calling him "patient," "kind," "friendly," and "courteous."  And the respect goes both ways as Dr. Van De Graaff says he relies on patient input to tailor his treatments to fit lifestyles, schedules and budgets.
A veteran, he separated from the U.S. Air Force with the rank of major. In his spare time, Dr. Van De Graaff enjoys bicycling, photography,and spending time with family.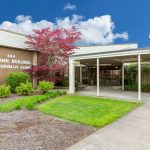 444 NW Elks Drive
Corvallis, OR 97330
Map/Directions
Residency
Dermatology, Wilford Hall Medical Center, Lackland Air Force Base, Texas, 2004
Internship
Internal Medicine, Wilford Hall Medical Center, Lackland Air Force Base, Texas, 1998
Education
Doctor of Medicine, University of Texas Health Science Center, San Antonio, 1997
Experience
The Corvallis Clinic, 2010 to current; Dermatology Specialists of Omaha, Omaha, NE; Chief of Dermatology, Offutt Air Force Base, Nebraska; Fight Surgeon, U.S. Air Force
Certification
American Board of Dermatology
Patient Ratings
The Patient Rating score is an average of all responses to care provider related questions on the Patient Satisfaction Survey.
About Survey Responses are measured on a scale of 1 to 5 with 5 being the best score.
---
Comments From Patients
Mar 2018
I thought that Dr. Van De Graaff was very professional and thorough. I'm glad he is my new dermatologist.
Mar 2018
Dr. Van De Graaff is very patient, pleasant & knowledgeable. I felt well cared for and received the amount of time I needed while at my visit.
Feb 2018
Dr. visit was efficient, I got all my questions answered and my exam completed in a quick, efficient amount of time.
Feb 2018
Dr. Van De Graaff is always thorough and professional. My wife and I have been going to him ever since he came to the Corvallis Clinic. We always enjoy speaking with him. He is very helpful with our questions and has a very congenial attitude. We consider him to be an excellent MD and Dermatologist.
Jan 2018
Dr. Van De Graaff has taken care of me for years including calling me when my biopsy tested positive for melanoma. He is patient, kind, informative & in general a great doctor. He always gets me an appointment if it's urgent.
Dec 2017
I am very impressed with how knowledgeable Dr. Van De Graaf is. He explained about my condition and how genetically it occurs. That was helpful to me. He is also extremely respectful and kind. At the end of my visit, he knew I was sad and depressed and he said, "You look like you could use a hug". I was very touched by such compassion. He is an excellent doctor and I already have recommended him to a co-worker and my husband!
Dec 2017
My Doctor was very thorough in his exam and explanation of possible further treatment.
Dec 2017
I was in and out of the office in less than 30 minutes. I am very satisfied with the care I received.
Nov 2017
The doctor did a very thorough exam.
Nov 2017
I have always felt very comfortable in Dr. Vandergraffs care and his office. He has been and is very helpful doc. He is very kind but also very knowledgeable. He is one doc I never have anxiety to see.
Nov 2017
I was very pleased with this first visit and plan on returning for future preventative care.
Nov 2017
The doctor was very efficient, answered my questions, took care of the problem, had a pleasant demeanor, and had me on my way in a short period of time.
Nov 2017
Very happy with the interest and care provided.
Oct 2017
I was one of his first patients he saw. He stuck with me and found out was wrong with my skin. He is the best.
Oct 2017
This is one of the best experiences I have had with a health care provider – from beginning to end.
Oct 2017
Dr. Van De Graaf seemed exceptionally professional and competent, while at the same time being engaged in what my priorities for dermatology care were. He is exactly the type of specialist I wanted.
Oct 2017
Always very thorough and takes time to explain things, friendly and caring.
Oct 2017
Most professional healthcare I've had. Hats off to *Dr. V.
Oct 2017
Great experience – the appointment was on-time, Dr Vandergraf was helpful and professional, knowledgeable and informative!
Sep 2017
I think *Dr. Van De Graaff gives me very good understandable answers to the work he performs on me, & explains it all very well. I am very happy & satisfied with all his performance & decisions!
Sep 2017
Dr. Van de Graff is very professional and helpful.
Sep 2017
This was my first appointment with this provider and he was respectful and explained the procedures.
Sep 2017
Dr. Van De Graaff is an outstanding dermatologist. I highly recommend him to my family & friends.
Aug 2017
Excellent care! Dr called to explain test results and treatment plan. Very impressed with the care I received
Aug 2017
This was the first time I have seen Dr. De Graff He was very welcoming and helpful
Aug 2017
Dr very carefully explained each step of the surgery that he was going to do and as he was doing it. I really appreciated that!
Aug 2017
This was the first time I saw Dr. Van de Graaf and I was extremely impressed with his manner. I felt like I got my money's worth!
Jul 2017
He was very courteous, smiled and gave good advice about aftercare. All in all a very good visit.
Jul 2017
The provider was professional and friendly. The variety of his diagnoses was impressive and so was the almost immediate report by e-mail.
Jul 2017
This provider has always been professional, knowledgeable, and ready to render service as needed. We appreciate his help and that of his staff.
May 2017
This was my first visit with Dr. VanDeGraaff and at this office. The staff members were all professional, courteous and friendly. The doctor and nurse were both very helpful and professional. I felt as if I was in very good hands. Everything was explained as the exam took place and when treatment was conducted. I felt completely at ease and knew I was getting quality care from knowledgeable and caring professionals. I have already recommended the doctor and the facility to two friends who needed a dermatologist.
May 2017
Dr VanDeGraaff is very attentive, caring and thorough.
May 2017
This was the first time I'd met the doctor, he was very kind, knowledgeable and answered any question I'd asked.
May 2017
Dr. Van de Graff is always at ease, professional, kind, and collaborative.
Mar 2017
Dr. VanDeGraaff is an excellent doctor.
Feb 2017
Dr. Van De Graaff was fantastic. I went as a referral and will refer my friends & family!
Dec 2016
I have to say each and every time I have had an appointment the level of care and professionalism I have experienced has been excellent!
Nov 2016
I really appreciate the doctor and staff for their care and concern.
Nov 2016
Dr. Van de Graaff is an excellent provider. I have recommended him to several friends and family members.
Oct 2016
very good experience! The doctor made me feel very relaxed! will go back, this was my first visit
Aug 2016
All info. from the doc was given in excellent detail, and he was direct, which I like.
Aug 2016
Dr. is concerned, informative, goes the extra mile –
Jun 2016
Dr. VDG is a great Dr. I was very pleased with his personality and care. He is very approachable and knowledgeable. When I called the after hours line, Dr. Van De Graaff called me back within 10 minutes. Excellent care and I really appreciated his care and concern.
Jun 2016
Dr. De Graaff was very friendly and knowledgeable and easy to talk with.
Jun 2016
I have been to several dermatologists. Their aide spent time with me, but the doctors zipped in and out in about three minutes – (not an exaggeration -) Dr. Van De Graaff took a good amount of time with me and I feel he CARES about his patients – It's comforting.
Jun 2016
I was very impressed and pleased with Dr. Van De Graaff!
May 2016
Best experience with a dermatologist.
May 2016
overall my experience with my actual provider was good. not amazing but he certainly took care of some of what I needed doing.
Apr 2016
The doctor was very thorough in his diagnosis and in recommending treatment.
Apr 2016
Excellent dr./patient rapport.
Apr 2016
I have complete confidence in Dr. Van De Graff and his staff – I was treated very well.
Apr 2016
The doctor explained if the medication was too expensive I could call & request a cheaper kind.
Mar 2016
Dr. Van DeGraaff is an "A+" doctor in every way-
Mar 2016
Very positive -Dr. Van de Graf is very professional and personable
Feb 2016
Dr. VDG is competent and articulate.
Jan 2016
He is excellent in how he treats and works with his patients!
Jan 2016
Dr. Van DeGraaf is by far one of the finest doctors that you have.
Jan 2016
Dr. V. is very pleasant & professional.
Click on the link below to enter your provider's telemedicine waiting room for your scheduled appointment.