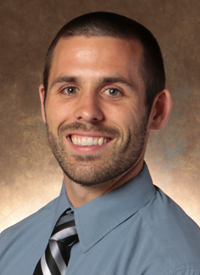 "It's rewarding to help people overcome pain and disability."
Paul Jaques (pronounced Jake-Wiss) enjoys helping people recover from all types of injuries and surgeries. As a board-certified orthopedic clinical specialist and a certified strength and conditioning specialist, he has a particular interest in treating athletes, police officers, firefighters, and other very physically active individuals who seek to return to their demanding activities.
Language(s) - English
Helping someone go from being barely able to stand to carrying 90 pounds without  pain in only two months, as has Paul Jaques (pronounced Jake-Wiss), can be arduous work.  But for Mr. Jaques, the journey needn't be a total chore. "It's important to keep physical therapy as enjoyable as possible." For that reason, he says patients usually describe him as "caring and having a good sense of humor."
Mr. Jaques, his wife and two daughters enjoy muddy-obstacle-course racing, camping, swimming, and indoor soccer.
Education
Doctor of Physical Therapy, George Fox University, 2016; Bachelors of Science in Exercise and Sports Science – Fitness & Nutrition, Oregon State University, 2010
Experience
Personal Trainer, Excell Fitness, Newberg, OR, 2014-2016; Exercise Specialist, The Corvallis Clinic, 2010–2013; Head Freshman Baseball Coach, Corvallis High School, 2009-2013; Exercise Specialist Cardiac and Pulmonary Rehab, Samaritan Health Services, 2010
Certification
Licensed Physical Therapist; Certified Strength and Conditioning Specialist; Orthopedic Clinical Specialist
Click on the appropriate link below to enter your provider's telemedicine waiting room for your scheduled appointment.
Doxy.me Telemedicine Waiting Room