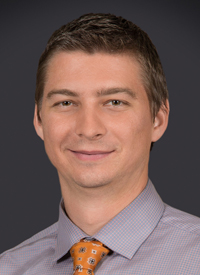 "A great night of sleep is something we all love, and I enjoy helping people attain it."
Mr. Szemerei sees patients at The Corvallis Clinic Asbury Building, North Albany, and Lebanon.
Language(s) - English, Hungarian
Prior to coming to The Corvallis Clinic, Mr. Szemerei (pronounced Seh-meh-reh-ee) had been a physician assistant at the High Desert Cardiopulmonary Medical Center in Apple Valley, Calif., for two years.
He strives to instill as much knowledge about a patient's disorder to them as possible and to make them feel at ease. An example of his approach is when he convinced a patient to follow his physician's advice to undergo a sleep study. "After a few months of using CPAP (continuous positive airway pressure), one would scarcely recognize him as the same person we first met. It was really rewarding seeing someone's life so radically changed for the better from something as simple as a CPAP machine."
Education
Master of Science, Physician Assistant Studies, Western University of Health Science, Pomona, Calif., 2012
Certification
Board certified, National Commission on Certification of Physician Assistants
Click on the appropriate link below to enter your provider's telemedicine waiting room for your scheduled appointment.