You may not realize how vital foot health is until you've experienced bunions or hammertoes. Toe discomfort can be excruciating, limiting daily activities and inhibiting ambulation. If you have a bunion or hammertoe, know that you're not alone, and there are many solutions to this medical condition. Let's discuss what this can mean, the cause, and where to go from here.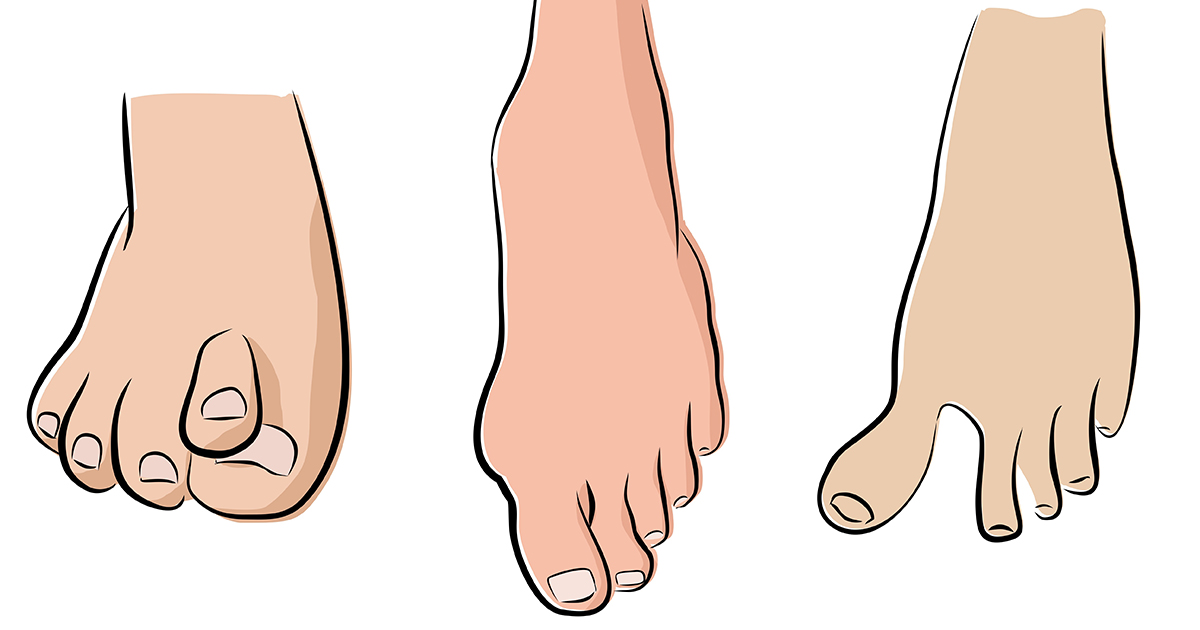 What causes bunions?
Bunions result from your foot structure that results in abnormal changes to tissue and position of bones. This malformation typically occurs at the site of the big toe, causing the joint to become inflamed and painful. Bunions are fairly common, with 10%-25% of the population experiencing them. There is a lot of discussion about the causes of bunions, as there isn't necessarily one main way they develop. Experts believe genetics plays a big role in development, while activities and certain shoes that force the toes together can make matters worse. Once formed, bunions cannot be corrected with taping, padding, or strapping.
If you think your bunion may have gotten worse by your favorite style of shoe, consider choosing another pair. Shoes with a wide toe box and offer good arch support may reduce pain to the area to keep you active!  
What causes hammertoes?
Hammertoes occur when the imbalance of muscles to the toes occurs, and one (or more) toe joints are at a different height than the other toe joints. This causes increased stress on the bones and tendons and can be very painful. The abnormal position of the toe can become irritated on shoes. The tightness of the joints and surrounding muscles/tendons can cause the toe to be elevated, contracted, and even change position dramatically.  
If you're struggling with hammertoes, consider purchasing a pad that can be placed into your shoe or find a more comfortable shoe with a tall toe box. This can help with alignment and prevent irritation to the toes. Wearing proper shoes can allow your toes to be relaxed.
Where to begin
If you've been having foot pain, it is always best to visit your doctor. They can provide you with solutions and discuss the many possibilities of treatments. They may suggest different shoes, pads, ice, and home exercises to help alleviate the pain and keep you moving. If none of the suggestions are working and you're still in pain, your doctor may consider surgery.  
Surgery
Surgery is an effective option to fix bunions and hammertoes, and it is considered when the quality of life is affected by pain and decreased activity. Before considering surgery, try out some of the methods previously mentioned, such as being aware of your shoe choices each day. While surgery can fix the issue, the recovery can be time-consuming and may temporarily affect activities. For those that are in extreme pain and have advanced foot deformities, surgery may be the best option. Those who are just beginning to notice discomfort should speak with their doctor about less invasive options. 
You shouldn't have to live in pain
If you've been struggling with a bunion or hammertoe, please know that there are many options available. Reaching out to a foot and ankle physician is an important step in finding the right solution and a treatment plan that will provide you with relief. If you're looking for personalized, expert help, contact our professionals at The Corvallis Clinic.  
Don't hesitate to reach out to healthcare professionals. There are options to address bunions and hammertoes. By making an appointment today, you're taking the first step toward restoring your feet.
---
Dr. Brett J. Waverly is a podiatrist/foot and ankle surgeon providing comprehensive foot and ankle care with an extensive background in non-surgical and surgical treatment.
To schedule an appointment, please call 541-754-1276.