Note: To view a video of Ms. Herman talking about her practice and herself, go Heather Herman,  FNP-C.
CORVALLIS — Heather Herman, FNP-C, is seeing patients by referral at The Corvallis Clinic Neurology Department. For information, call 541-754-1274.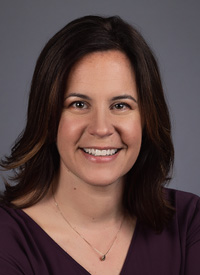 Certified by the American Academy of Nurse Practitioners as a family nurse practitioner, Ms. Herman will work with The Clinic's neurologists to treat neurological conditions, focusing on stroke care. "A patient is not a diagnosis; they are a person," she says of her approach to care.
During her prior career as a registered nurse, Ms. Herman worked with stroke patients and their families in both hospital and outpatient settings. She was the Stroke Program Coordinator from 2015 to 2018 and a critical care nurse from 2006 to 2015 at Good Samaritan Regional Medical Center in Corvallis. She was also a critical care nurse in Phoenix, AZ, at InteliStaf Healthcare from 2004 to 2006 and at St Joseph's Hospital/Barrow Neurological Institute from 2001 to 2004.
"I love working together with the patients and their families to help them to understand what is happening and to help them to regain that loss of control that can sometimes occur with an illness or new diagnosis, she says. "I also like finding out what they enjoy doing and how we can partner together so they can do those things."
Ms. Herman earned a Master of Science in Nursing from Gonzaga University, Family Nurse Practitioner Program, in Spokane, WA, in 2018. She also earned a Bachelor of Science in Nursing, from Grand Canyon University, in Phoenix, AZ, in 2004.
Ms. Herman and her husband have two daughters, and they enjoy sports, music, and family vacations. She says they try to attend all Oregon State women's basketball games. Ms. Herman also volunteers as a medical provider at a Girl Scout camp where her daughters are counselors. "Having 150 girls in the woods, trying new things and seeing how powerful they can be … it's wonderful to watch!"
The Corvallis Clinic, an independent, physician-led medical group, is a comprehensive multi-specialty organization, serving Benton, Linn and Lincoln counties.  It offers more than 100 board-certified providers and advanced professionals in 27 specialties at 10 area locations.  As the fourth-largest area employer, The Clinic has 600 employees.