Note: To view a video of Mr. Odens talking about his practice and himself, visit Oden.
CORVALLIS — Tyler Odens, DPT, is the newest provider to join The Corvallis Clinic Physical Therapy Department. He provides treatments for restoring function and mobility in pediatric, adolescent, adult and geriatric patients. To schedule an appointment, call 541-754-1265.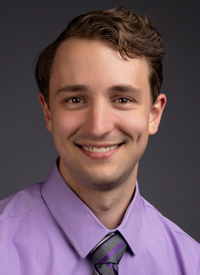 Odens had been an inpatient physical therapist at McKenzie Willamette Medical Center, in Eugene, from 2017 until he arrived at The Clinic. A licensed physical therapist, Odens earned a Doctor of Physical Therapy from Rocky Mountain University of Health Professions, in Provo, Utah, in 2016, and a Bachelor of Science in Exercise Science, in Sioux Falls, S.D., in 2013,
Odens enjoys being able to discern a breakthrough in what ails a person when that person cannot. "Sometimes as a patient it is hard to see any improvements," he says. "But being that outside eye, I can tell him or her: "Yes, you are doing better, and here's why – and here's how we can help you do even better.'"
His approach to care centers on seeing the patient as a whole person and not just as one specific problem. "When somebody comes to see me, I hope they experience an environment of trust and compassion," he says. He then focuses on getting them to feel better. "It's rewarding to see patients go from not being able to walk more than four or five steps, to be able to walk all the way down the hallway. So, when they go home, they're not feeling as though they are stuck in one room. They can be safe and enjoy life and not feel as though life is being drained from them."
Outside his practice, Mr. Odens loves being in the mountains to hike, climb, camp, fish, ski and snowboard. He is also a basketball and football fan.
The Corvallis Clinic, an independent, physician-led medical group, is a comprehensive multi-specialty organization, serving Benton, Linn and Lincoln counties. It offers more than 100 board-certified physicians and advanced clinical professionals in 27 specialties at 10 area locations. As the fourth-largest area employer, The Clinic has 600 employees.