Watch the following video to understand the difference between Medicare Parts A, B, C, and D. You will also learn about coverage, costs, and enrollment dates. It'll also share some helpful tips for choosing coverage to fit your needs.
What's the Difference Between Original Medicare and Medicare Advantage?
The coverage and cost of Original Medicare vs. Medicare Advantage vary. Still, it depends on the needs of the individual patient. Often, patients will find that Medicare Advantage is the exact cost of Original Medicare and provides them with better care. This is why we encourage our Medicare patients to talk with a Medicare representative, as each patient's situation and needs are different. There is no cost involved in discussing your options with a medical insurance broker.
What Does Original Medicare Typically Cover?
Original Medicare coverage includes:
Hospital (Part A) & Medical (Part B)

Covers 80% of the cost of most medical bills
You pay the remaining 20% of costs, with no yearly limit on what you pay out-of-pocket

Use of any doctor or hospital that takes Medicare across the U.S.
It does not include:
Drugs: If you want drug coverage, you can join a separate Drug plan (Part D)
Help with out-of-pocket costs: You can buy a Medicare Supplement Insurance (Medigap) policy to help pay your share of expenses
Vision, hearing, dental, and more
What Does Medicare Advantage Typically Cover, and How Do I Apply?
An all-in-one alternative to Original Medicare, Medicare Advantage coverage includes:
Medicare-approved private companies provide all your Part A (Hospital) and Part B (Medical) Benefits
Use of doctors and hospitals in the plan's network (for non-emergency or non-urgent care)
Most plans include drug coverage
Many plans include extra benefits like vision, hearing, dental, transportation, and more
An annual limit on your out-of-pocket costs
It does not include:
Use of any doctor or hospital that takes Medicare across the U.S.
Here is a simplified breakdown to show you an overview of the differences: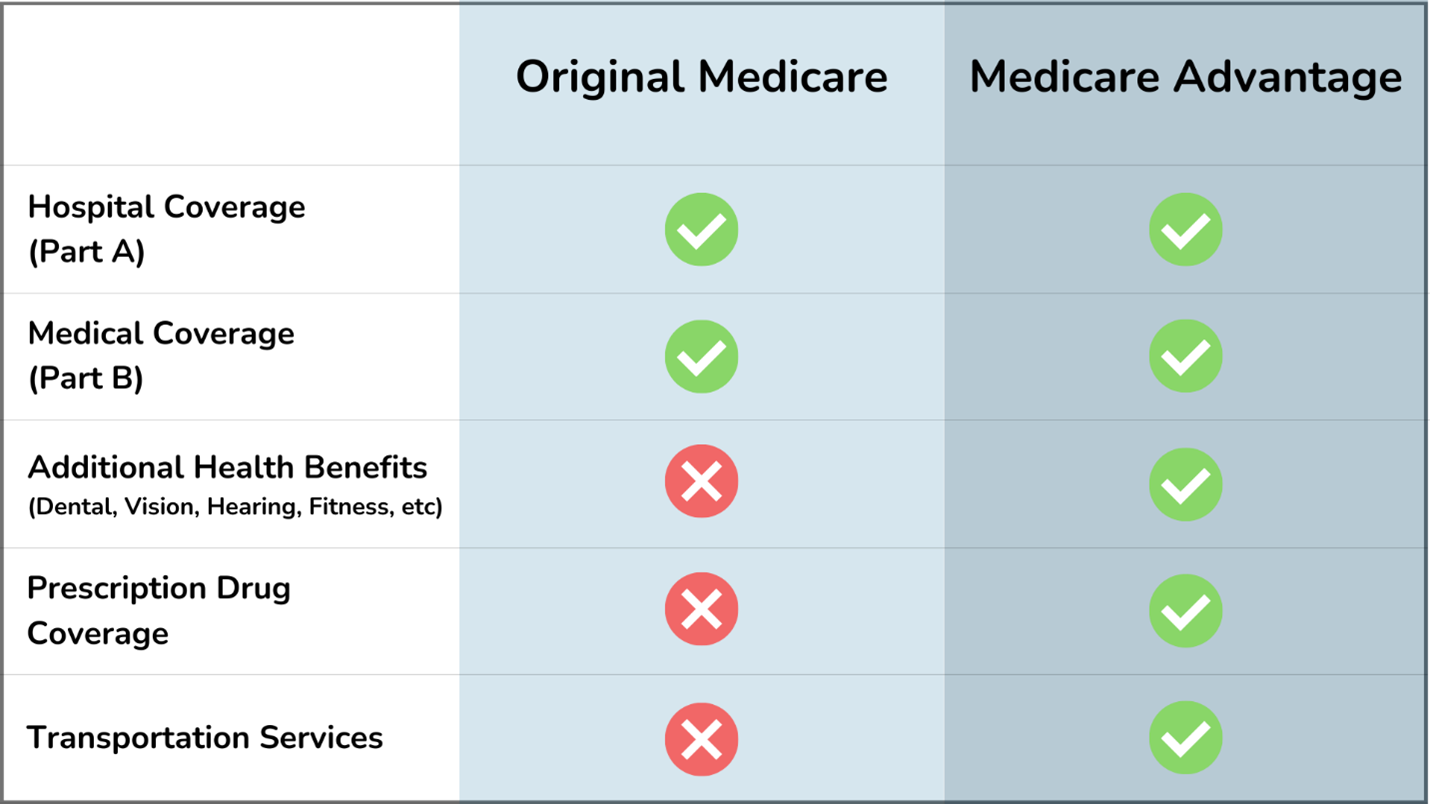 Learn More About How Medicare Advantage Plans Work