"My patients can expect me to truly listen to them and work with them to help them reach their goals."
Diane Habel, LCSW, is trained in and uses dialectic behavioral therapy and other evidence-based therapies for issues such as anxiety, depression, and Borderline Personality Disorder. She works with patients that are age 15 and older.
Language(s) - English
Diane Habel lists mindfulness and mindful listening as the core of her practice. "I help patients to explore different techniques and find what works for them. Every patient is different, so therapy varies. Together we identify what will be effective."
She says her patients would describe her as a good listener that hears and understands them without judgment. "I can help them feel relaxed and comfortable so that they can open up and get into the issues."
Ms. Habel states that seeing her patients' progress is very meaningful to her. One example was a patient struggling with Borderline Personality Disorder who did not expect to live into adulthood. This patient was able to use the skills she learned in therapy and completely turn her life around. The patient reached goals she had only dreamed of and found herself enjoying her adult life and setting new goals for her future. Another patient was able to learn to befriend her anxiety and manage it, rather than beat herself up for feeling anxious and creating self-loathing.
Outside her practice, Ms. Habel is very proud of her four adult children and daughter-in-law and enjoys traveling to visit with them. She is an avid cyclist, and this is how she came to find Oregon as her home. In 2018, she completed a solo, self-supported bike trip along the Oregon and Northern California coast and through southern Oregon. "I fell in love with all that Oregon has to offer." She shares her home with two old rescue dogs and is passionate about animals and animal welfare issues. She enjoys being outdoors in nature and yoga, practicing meditation daily.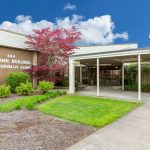 444 NW Elks Drive
Corvallis, OR 97330
Map/Directions
Education
MA, Social Work, University of Cincinnati, Cincinnati, OH, 2014; MA, Theology, Xavier University, Cincinnati, OH, 2010; BA, Sociology, University of Cincinnati, Cincinnati, OH, 1990
Experience
The Corvallis Clinic, 2020 -; Therapist, Compass Point Counseling Services, Cincinnati, Ohio, 2016-2020; Therapist, Child Focus, Inc., Cincinnati, Ohio, 2014–2016; Therapeutic Parent Coach and Parenting Group Facilitator, The Family Nurturing Center, 2013 – 2014
Certification
Licensed Clinical Social Worker
Click on the appropriate link below to enter your provider's telemedicine waiting room for your scheduled appointment.