"I like it when I can help the patient appreciate the world a little more"
Dr. Richard screens for and treats glaucoma, cataracts, macular degeneration, and diabetes-affected vision, among other ophthalmological conditions. He also performs LASIK surgery.
Language(s) - English
Dr. Richard (Ree-shard) says he loves being an ophthalmologist because his specialty can "fix a great deal." An example is when a family brought into his office their wheelchair-bound grandmother, whom they thought wasn't going to last much longer. Then, Dr. Richard performed cataract surgery on her. "Next time, she came in without a wheelchair," he says. "She just couldn't see before."
He says it is his job to provide patients with the latest evidence-based medicine in his specialty. "If there's a high-quality study pointing toward a solution or specific approach, it's my business to know about it and be comfortable incorporating it into my practice."
Dr. Richard seeks to explain the options to his patients and then together with them pick the optimal course of action. "I don't think I've ever told a patient what they have to do. My suggestions will always be guided by the question, 'What would I want done for myself or my loved ones?'"
Dr. Richard and his wife have two children, and he enjoys biking, kayaking and hiking.
Residency
University of Mississippi Medical Center, Department of Ophthalmology, Jackson, MS, 2015
Education
Doctor of Medicine, Louisiana State University Shreveport School of Medicine, 2011; Bachelor of Science, Biological Sciences, Louisiana State University, Baton Rouge, LA, 2007
Experience
The Corvallis Clinic, Ophthalmology and Optometry Department, 2018 to current: Falgoust Eye Medical and Surgery, Lake Charles, LA, 2016-2018; Richard Eye Center, Owner/Physician, Eunice, LA, 2016-2017
Certification
American Board of Ophthalmology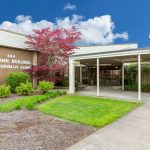 444 NW Elks Drive
Corvallis, OR 97330
Map/Directions
Research
"Risk Factor Analysis of Patients Suspected of Having Giant Cell Arteritis." Dr. Kyle Lewis, June 2013. Retrospective chart review of patients who underwent a temporal artery biopsy at UMMC over the past 15 years.
"Measuring IOP with Disposable Versus Reusable Applanator Prisms." Dr Kimberly Crowder and Dr Omalola Idowu, May 2015. Prospective study designed to assess accuracy and cost effectiveness of two types of disposable applanator tips.
Presentations
"ADHD Pharmacology – Different treatments, different compliance." Presented at Baton Rouge General, poster presentation, July 2008
"Gastric Outlet Obstruction Secondary to Gallstone Migration Through a Cholecystogastric Fistula: A Case Report." Presented at LSUHSC Shreveport Department of Surgery, oral presentation, August 2009
"The Recent CDC/AAP Debate on Circumcision." Presented at LSUHSC Shreveport Department of Pediatrics, oral presentation, March 2010
"Retinal Detachment – Presentation, Treatment, and Prognosis." Presented at LSUHSC Shreveport Ophthalmology Grand Rounds, oral presentation, August 2010
"Acute Retinal Necrosis." Presented at UMMC Pathology lecture series, oral presentation, September 2011
"Ocular Rheumatology." Presented at UMMC Pathology lecture series, oral presentation, April 2012
"Floppy Eyelid Syndrome." Presented at UMMC Grand Rounds, oral presentation, August 2012
"Microphthalmia and Anophthalmia." Presented at UMMC Grand Rounds, oral presentation, January 2013
"Optic neuritis as the initial presentation of Multiple Scelrosis." Presented at UMMC Grand Rounds, oral presentation, April 2013
"Toxoplasmosis and Toxocariasis." Presented at UMMC Retina lecture series, oral presentation, April 2013
"Use of Retained Perfluoron as a Temporary Vitreous Substitute for Inferior Rhegmatogenous Retinal Detachments." Presented at ARVO in Seattle, WA, poster presentation, May 2013
"Hyphema management." Presented at UMMC Grand Rounds, oral presentation, June 2013
"Chroidal Tumors." Presented at UMMC Retina lecture series, oral presentation, August 2013
"Endogenous Endophthalmitis." Presented at UMMC Grand Rounds, oral presentation, November 2013
"Lens Subluxation." Presented at UMMC Grand Rounds, oral presentation, February 2014
Gregory A. Richard, M.D. Video