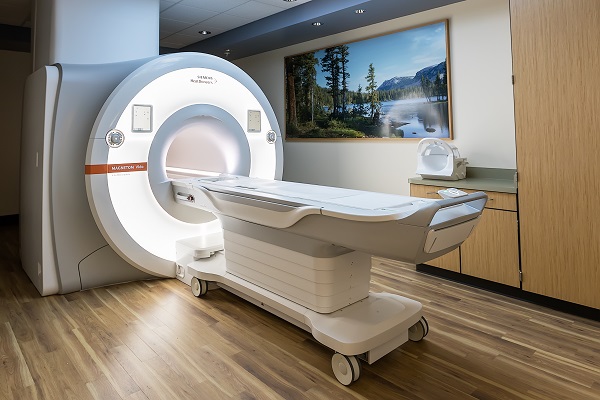 The Corvallis Clinic is bringing the latest in magnetic resonance imaging (MRI) technology to the Northwest.
Starting in late January, The Clinic will be scanning patients using the Siemen's MAGNETOM VIDA 3 Tesla (3T) MRI scanner. The VIDA features Siemens' recently FDA-approved BioMatrix Technology that considers individual patient anatomy and physiology to produce optimal image quality.
"The VIDA is clearly the best for our patients because it has the latest MRI technology that makes exams faster and more comfortable," Clinic CEO Brad Wakefield said. "Why not have the best right here in Corvallis?"
The VIDA's larger bore, wider table and improved lighting will help relieve anxiety often associated with MRI. The BioMatrix Sensors will allow the patient breathing to be monitored without the straps placed around their midsection that tend to increase claustrophobic feelings. "The system automatically detects and displays respiratory data and allows the technologist to quickly and efficiently adjust scan parameters to each individual patient, speeding up the exam, decreasing the time patients need to hold their breath and resulting in more diagnostic images." said Bart Pierce, an MRI technologist at The Clinic's Imaging Department.
The VIDA will also give The Clinic the opportunity to offer tests that are currently unavailable to its patients, such as whole-body imaging and cardiac studies. "We will have the potential to do more types of abdominal imaging, such as enterography, which is used to visualize the bowel without the use of radiation and very specific scans of the liver to quantify iron overload." said MRI Technologist Laura Kaplan.
Imaging Manager Michael Stringari said the VIDA represents a huge improvement in patent comfort and satisfaction. "This platform should allow us to personalize or work with more tools to tailor exams around each patient's needs or requirements," he said. "Many times in the past my ability to image something was limited by technical factors or limitations in the available technology. The VIDA will eliminate many of those barriers."
CEO Wakefield said The Clinic's outpatient Imaging Department services are almost always less expensive for comparable exams done in a hospital system. "That is not just true here in Corvallis, but across the country. This machine will certainly provide the best value for your health-care dollar in Oregon."
The Corvallis Clinic, an independent, physician-led medical group, is a comprehensive multi-specialty organization, serving Benton, Linn and Lincoln counties.  It offers more than 100 board-certified providers and advanced professionals in 27 specialties at 10 area locations.  As the fourth-largest area employer, The Clinic has 600 employees.