Note: To view a video of Dr. Rosales talking about her practice and herself, go to Maritza Rosales, M.D.
CORVALLIS — Maritza Rosales, M.D., will begin seeing patients at The Corvallis Clinic in North Albany in early September. To schedule an appointment, call 541-926-3441; to request an appointment online, go to New Patient Appointment Request.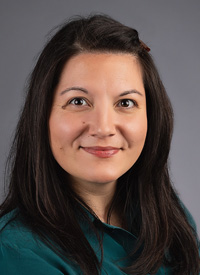 Dr. Rosales completed a Family Medicine residency at Virginia Commonwealth University, Bon Secours Saint Francis Family Medicine Center, in Richmond, VA, in 2018. She is board eligible by the American Board of Family Medicine.
"Patients can expect me to advocate lifestyle changes over pills," she says, "but to strongly recommend medication when lifestyle either isn't working or won't work." She says patients have described her as "thorough," "a good listener," "trustworthy," and "motivating."
Dr. Rosales endeavors to prevent disease by encouraging healthy living and to help patients age comfortably and gracefully. To that end, she keeps up on the emerging research on the human microbiome. Earning a Master of Science in Human Genetics concurrently with a Doctor of Medicine, she believes patients should understand the interaction between lifestyle and genetics as health factors. She also says the growth of both scientific research and commercial products in this area make the provider's understanding of it particularly relevant.
Dr. Rosales earned a Doctor of Medicine and a Master of Science in Human Genetics from Case Western Reserve University in Cleveland, OH, in 2014. She earned a Postbaccalaureate Premedical Certification from Columbia University in New York City in 2006 and a Bachelor of Arts in Psychology from the University of Washington in 2002.
Dr. Rosales, who has a young son, enjoys yoga, gardening, cooking, and traveling. She speaks Spanish at an intermediate level.
The Corvallis Clinic, an independent, physician-led medical group, is a comprehensive multi-specialty organization, serving Benton, Linn and Lincoln counties.  It offers more than 100 board-certified providers and advanced professionals in 27 specialties at 10 area locations.  As the fourth-largest area employer, The Clinic has 600 employees.