Note: To view a video of Dr. McKelvey talking about her practice and herself, visit McKelvey.
CORVALLIS — Robin McKelvey, M.D., will begin to see patients at The Corvallis Clinic's Internal Medicine Department in mid-August. To make an appointment, call 541-757-3757; to request an appointment online, go to New Patient Appointment Request.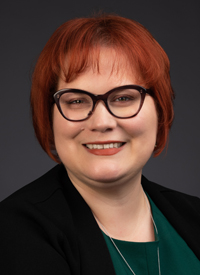 Dr. McKelvey comes to The Clinic from Healing Wings Clinic, in Fort Worth, Texas, where she was the Medical Director and an HIV primary care specialist from 2010 to 2019 and an HIV primary care specialist from 2008 to 2010. She also was an Internal Medicine Hospitalist at JPS Hospital, in Fort Worth, from 2007 to 2008.
Certified by the American Board of Internal Medicine, Dr. McKelvey completed one year of an Infectious Disease fellowship at the University of New Mexico, in Albuquerque, in 2007. She completed an Internal Medicine residency at the University of New Mexico Health Sciences Center, in Albuquerque, in 2006, and earned a Doctor of Medicine from Wright State University, in Dayton, Ohio, in 2003. She also received a Bachelor of Science in Biologic Sciences, from Antioch College, in Yellow Springs, Ohio, in 1997.
In the middle of her infectious disease fellowship, Dr. McKelvey realized being a specialist and doing consults was not for her because she wouldn't necessarily be following her patients long term. So, she decided to concentrate on general internal medicine. "I wanted to be able to see how a patient's health care was going, and be with them through various points – both the highs and lows – in their life."
She believes everyone deserves the full information about their health care but that she also has a nurturing approach. "I really like to know people and to have them view me as someone they can say anything to."
Dr. McKelvey and her husband have twin boys. An amateur photographer, she also enjoys ballroom dancing, helping her husband during biking events, and cooking.
The Corvallis Clinic, an independent, physician-led medical group, is a comprehensive multi-specialty organization, serving Benton, Linn and Lincoln counties.  It offers more than 100 board-certified physicians and advanced clinical professionals in 27 specialties at 10 area locations.  As the fourth-largest area employer, The Clinic has 600 employees.