"Surgery offers a unique approach to many problems that cannot solely be treated with conservative measures."
Dr. Bombeck has special interests in advanced laparoscopic operations, in addition to more common procedures such as hernia repair, gallbladder removal, colonoscopy and varicose vein ablation. He is also a Surgical Oncologist, treating colon, breast, thyroid and skin cancers.
Language(s) - English
Drawn to medicine so he could help other people, Dr. Bombeck became a surgeon "because it offers a hands-on approach to dealing with illness."
A retired Lieutenant Colonel in the US Army, he served as a trauma surgeon across Europe and in Afghanistan. In his spare time, Dr. Bombeck enjoys playing golf and snow skiing, as well as enjoying the outdoors with his wife and their three daughters.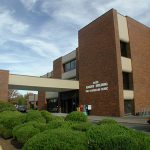 3680 NW Samaritan Drive
Corvallis, OR 97330
Map/Directions
601 NW Elks Drive
Corvallis, OR 97330
Map/Directions
Fellowship
University of Pittsburgh, NIH Fellowship in Molecular Biology, 1999
Residency
University of California, San Francisco-East Bay, Oakland, CA, 2001
Education
Doctor of Medicine, University of Illinois, 1994
Experience
The Corvallis Clinic, 2001 to Present
Certification
American Board of Surgery; Fellow, American College of Surgeons
Dr. Bombeck's NIH Research Fellowship in Molecular Biology was conducted at the University of Pittsburgh for the investigation of hepatic apoptosis in response to various inflammatory mediators; he has published several book chapters and journal articles on the subject.
BIBLIOGRAPHY
1. Bombeck CA, Li JR, Billiar TR.  Reactive Oxygen Species, Nitric Oxide and Apoptosis.  In: Free Radicals and Inflammation, Ed Winyard PG, Blake DR, and Evans CH. 1999 Birkhauser     Verlag, Basel, Switzerland, pp 207-219.
2. Bombeck CA, Ganster RW, Green A, Ou J, Billiar TR. The Role of NF-kB In Tumor Necrosis Factor-alpha Mediated Hepatocyte Toxicity. Surgical Forum 1999;19-20
3. Bombeck CA, Billiar TR.  The Involvement of Apoptosis in Inflammatory Liver Failure.  Sepsis 1998;2:39-45
4. Bombeck CA, Li JR, Kim YM, Billiar TR.  The Protective Role of Nitric Oxide in Hepatocytes During Responses to Inflammatory Mediators and Induction of Apoptosis. In: Hepatocyte Review, Ed M. Berry. 1999 Kluwer Dordrecht, Netherlands, pp 270-281.
5. Bombeck CA, Barret J.  Diagnostic Peritoneal Lavage in the Evaluation of Blunt Abdominal Trauma. 1994 (abstract).
6. Li JR, Bombeck CA, et al. Nitric Oxide Suppresses Apoptosis via Interrupting Caspase Activation and Mitochondrial Dysfunction in Cultured Hepatocytes. Journal of Biological Chemistry 1999;274:17325-17333.
7. Kim YM, Bombeck CA, Billiar TR. Nitric Oxide as a Bifunctional Regulator of Apoptosis. Circulation Research 1999;84:253-256.
1. The War in Afghanistan: A Surgeon's Perspective, 2004 Good Samaritan Hospital, Corvallis, OR.
2. The Role of NF-kB in TNF-alpha Mediated Toxicity, 1999 American College of Surgeons; Forum, San Francisco, Ca.
3. Changes in Mitochondrial Transmembrane Potential Accompany Apoptosis in an In-Vivo Model of Fulminant Hepatic Failure, 1998 Association for Academic Surgery, Seattle, Wa.
Patient Ratings
The Patient Rating score is an average of all responses to care provider related questions on the Patient Satisfaction Survey.
About Survey Responses are measured on a scale of 1 to 5 with 5 being the best score.
---
Comments From Patients
Nov 2017
Very helpful explanations. Very willing to make appt available on short notice.
Nov 2017
I regard Dr. Bombeck as a skillful surgeon. He gave me all the information I needed to make a decision on "minor" surgery and we went through the dangers of it and any intervention. Post op information and the visit was good too.
Nov 2017
Always very concerned about me and my continuing health issue. Is a great champion for my cause.
Oct 2017
This was my first experience with this provider, and I'm very satisfied. I hope that it will continue that way.
Oct 2017
Dr. Bombeck is a competent, caring, and effective physician, I am grateful for his awareness in his busy schedule to advance my surgical date and resolve my issue so quickly.
Sep 2017
He listened to my concerns about my recent stay in the hospital and provided me with information and understanding. I felt he heard my concerns and provided good options.
Aug 2017
I was very pleased with Dr. Bombeck, and his staff.
Aug 2017
Dr. Bombeck and his staff are great.
Aug 2017
Due to the amount of respect given to me and Dr. Bombeck's credentials, I am very confident in his skills, abilities and a successful surgery.
Jul 2017
Very personable & caring doctor.
May 2017
I would highly recommend Dr. Bombeck. He is caring, professional, knowledgeable and explains everything thoroughly and makes you feel at ease.
May 2017
I have seen Dr. Bombeck on several occasions and he is always very friendly, knowledgeable and professional. I would recommend him to anyone needing surgery. I have complete trust in him and his opinion.
May 2017
He was very friendly and explained the whole process to me.
Mar 2017
Loved Dr. Bombeck's no nonsense! He was direct and upfront, no sugar coating needed! Would go back to Dr. Bombeck in a heart beat!
Mar 2017
Dr. Bombeck and his staff are awesome!!
Mar 2017
I had a few freak-out moments after surgery and Dr. Bombeck and his staff were very helpful and reassuring about what I was experiencing
Jan 2017
Bombeck is excellent.
Dec 2016
Dr Bombeck is the type a Dr. I appreciate. He gives you the situation straight up, doesn't sugar coat anything, but he also ensured that I was comfortable with decisions and took the time to answer any question I had.
Dec 2016
My treatment with Dr. Bombeck and his staff has been VERY caring.
Aug 2016
Dr. Bombeck is very thorough, he listens very well and focuses intently on your concerns and questions. I was impressed with his efforts to thoroughly explain treatment options available and then solicit my feelings and concerns about possible outcomes. I appreciate his manner and approach.
Aug 2016
The physician impressed me with his concern and willingness to discuss questions I had.
Jul 2016
This office staff and Doctor are exceptional. Corvallis Clinic is amazing.
Jul 2016
Liked this Dr. He tells it like it is. Don't hold back. Also, very good at what he does.
Mar 2016
Chris Bombeck is an excellent surgeon.
Click on the appropriate link below to enter your provider's telemedicine waiting room for your scheduled appointment.
Doxy.me Telemedicine Waiting Room