"I believe change is possible when using our personal strengths and interests"
Mr. Handlin uses such methods as Cognitive Behavioral Therapy, Motivational Interviewing, and Acceptance and Commitment Therapy to treat those with mental-health and addiction disorders.
Language(s) - English
Before Mr. Handlin became a Licensed Clinical Social Worker, he worked in the arts as a teacher, performer and conductor. He said his initial arts career now influences his practice: "My creative background helps me tailor approaches for others to journey forward in making meaningful and sustainable change."
As an example, Mr. Handlin cites a former patient who for the first time in his life was seeking help from a mental-health professional. After a life-changing event, the man had to pause his work as a foreman, and he became despondent as he found a large part of his identify in being a hard-worker and patriarch of his family. "Through our interactions" Mr. Handlin said, "he was able to realign his personal values and beliefs and find meaning in family relationships, faith activities and life-experiences outside of the workplace.
"I believe above all else we should always interact with others with compassion and kindness. When we see others as having great potential and promise, this then becomes a shared belief that is often realized through our relationship."
Mr. Handlin and his wife have two grown daughters, the youngest at the University of Wyoming and the oldest a recent transfer to Oregon State University. He enjoys music, theater, the visual arts, cycling and tennis.
Education
Master of Social Work, Clinical Concentration and Evidence-Based Specialization, University of Chicago, 2007; Bachelor of General Studies in Psychology and Social Work, Wichita State University, Wichita, KS, 2005; Bachelor of Fine Arts-Music, Wichita State University, Wichita, KS, 1995
Experience
Clinical Director, Mental Health Association, Wichita, KS, 2016-2017; Supervisor/Therapist (part time), Integrated Specialists in Counseling, LLC, Wichita, KS, 2015-2017; Senior Social Worker/Mental Health Court, Comcare of Sedgwick County, Wichita, KS, 2007-2016
Certification
Licensed Clinical Social Worker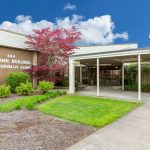 444 NW Elks Drive
Corvallis, OR 97330
Map/Directions
Daryl Handlin, LCSW Video