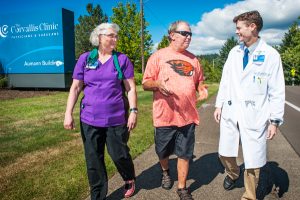 Families and individuals in our communities count on The Corvallis Clinic for their health care needs. We take that trust very seriously. While our goal is to keep you healthy, our 110+ providers are available if you need us. Our physicians have been trained at the top medical schools in the country and are at the forefront of medicine.
Each day, doctors, nurses, and medical specialists at The Corvallis Clinic provide expert, compassionate care with the most advanced technology at our seven locations. We offer a full range of primary and specialty care services, along with many programs to care for you.
We welcome you as our patient and encourage you to call on us to help meet your needs. Whether your question relates to your bill, the need for interpreter services, or a prescription refill, let us know how we can help. To become a new patient, call our Find-a-Physician service at 541-757-3757 or submit an online request to learn more about the 110+ outstanding doctors and providers in 27 primary care and specialty fields.
Your Doctor. Your Care. Our Privilege.