Note: To view a video of Mr. Dean talking about his practice and himself, visit Dean.
CORVALLIS — Brandon Dean, PA-C, will begin seeing patients in mid-June in the Orthopedic Surgery and Sports Medicine Department at The Corvallis Clinic.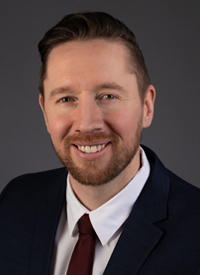 Mr. Dean will first assist in total joint replacement, arthroscopic and trauma surgery. He will also provide surgical follow-ups, fracture care, and joint injections; order and interpret imaging, labs and other diagnostic tests; and prescribe medications and therapy.
Certified by the National Commission on Certification of Physician Assistants, Mr. Dean comes to The Clinic from Yellowstone Sports Medicine in Cody, WY, where he had practiced since 2014.
He originally pursued a business career because it involves hard work, problem-solving and collaborating with others. "I felt that medicine gave me those same opportunities, but in a way that I could better help other people," he said of deciding to become a physician assistant.
His love of athletics drew him to specialize in Orthopedics and Sports Medicine. "I know how hard it is to be told that you have to put a hold on doing the things you love, to let your body heal properly. Going through sports injuries myself helps me relate to my patients."
He earned a Master of Science in Health Sciences for Physician Assistant Studies, Orthopedics Emphasis, from Weill Cornell Graduate School, in New York, NY, in 2014. He earned Post Baccalaureate from Boise State University in 2012 and a Bachelor of Science in Business Management from Brigham Young University – Idaho, in Rexburg, in 2008.
Mr. Dean and his wife and their three children enjoy the outdoors – especially hiking, biking, camping, rock climbing, and snowboarding – and he also runs half marathons and plays volleyball. He and his family also enjoy serving their church and community.
The Corvallis Clinic, an independent, physician-led medical group, is a comprehensive multi-specialty organization, serving Benton, Linn and Lincoln counties.  It offers more than 100 board-certified physicians and advanced clinical professionals in 27 specialties at 10 area locations.  As the fourth-largest area employer, The Clinic has 600 employees.