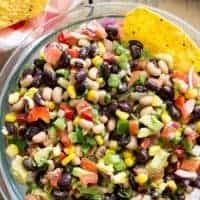 Ingredients
 2 (14-ounce) cans black-eyed peas, rinsed and drained, or 3 cups cooked black-eyed peas
 1 (14-ounce) can black beans, rinsed and drained, or 1 ½ cups cooked black beans
 1 ½ cups fresh corn kernels (about 2 ears of corn), or 1 (14-ounce) can corn, drained
 1 ½ cups chopped tomatoes (I used about 4 Roma tomatoes, about ¾ pound)
 1 medium red, orange or yellow bell pepper
 ¾ cup chopped red onion (about ½ small red onion)
 ½ cup chopped cilantro, leaves and stems
 1 to 2 jalapeños, ribs removed, seeded and finely chopped
 1 avocado (optional)
How to Make It
1. In a large serving bowl, combine the drained black-eyed peas, black beans, corn, chopped tomatoes, bell pepper, onion, cilantro and jalapeño. If you'll be including avocado, wait to dice it until you're ready to serve the dip, so it doesn't turn brown in the meantime.
2. In a cup, whisk together the dressing ingredients until emulsified. Drizzle the dressing over the serving bowl and toss until well mixed. Season to taste with additional salt and pepper. For best flavor, let the mixture marinate for at least 20 minutes before serving. If you're adding avocado, mix it in just before serving.
Source: Cooking Light