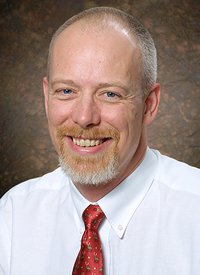 After 28 years, beloved Pediatrician M. Patrick Allender, MD, is retiring from The Corvallis Clinic.
During his tenure, he has served as the Pediatrics Medical Department Chair on the IT Steering Committee, the PEER Review Committee, and the EHR Committee. Although his contributions to these committees were tremendous and helped shape The Corvallis Clinic into what it is today, "the time he spent working on my patient's health" is what he says is his most significant contribution.
Dr. Allender's legacy is one of compassionate, patient-focused care that has left an enduring impression on those he served. Described by his patients as intelligent, patient, kind, understanding, and relatable, Dr. Allender has been one of calm assurance. A grateful patient expressed, "Thank you, Dr. Allender, for your calm demeanor. You always made the kids and me feel seen, heard, and cared for. You were adept at uncovering the root causes of issues others pushed away. You are a gifted doctor."
The outpouring of admiration extends beyond his patients to his colleagues, who his leadership has influenced. A former nurse, privileged to work alongside Dr. Allender for five years, reminisces, "He was an amazing inspiration and influence to everyone he interacted with. When I pursued further education to become a nurse practitioner, he consistently took the extra time to educate me not just on the 'how' but the 'why' of compassionate care for children and families. I am eternally grateful."
Another colleague, reflecting on seven years working with Dr. Allender, notes, "His knowledge, expertise, and experience are unparalleled. His calming demeanor is extremely helpful with children and worried parents. Patient, compassionate, trustworthy, and always willing to go the extra mile, he genuinely cares about everyone, making children and their parents feel valued and safe. Over the years, I learned a lot from him, and we had some great conversations."
When asked for his advice to the newest members of the medical community, Dr. Allender imparts, "Keep working to do your best for your patients. That's why we are here." A philosophy he steadfastly adhered to throughout his career. Reflecting on the most significant lesson learned as a physician, he shares the wisdom of Edward Livingston Trudeau, "To cure sometimes, to relieve often, to comfort always." It is a poignant reminder that we are not omnipotent but that we can try and frequently succeed in making things better for those who come to us for help.
As Dr. Allender embarks on his next chapter, plans for travel include vacations to the Galapagos, Italy, New Zealand, and possibly Ireland. Additionally, he remains dedicated to his passion for swimming and will continue volunteering as a swimming official at high school, age group, and master's competitions.
The Corvallis Clinic is an independent, physician-led medical group and a comprehensive multi-specialty organization serving Benton, Linn, and Lincoln counties. It offers over 100 board-certified physicians and advanced clinical professionals in 27 specialties at 10 locations. As one of the largest employers in the area, The Corvallis Clinic has more than 600 employees.