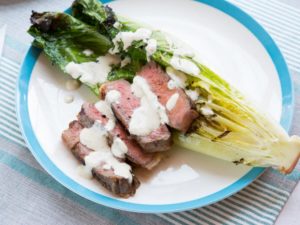 Dressing:
1/2 cup 2 percent plain Greek yogurt
3 tablespoons grated Parmesan
1 tablespoon plus 1 teaspoon fresh lemon juice
1 tablespoon Dijon mustard
1 tablespoon olive oil
1/2 teaspoon dried oregano
3 anchovies
1 small clove garlic, chopped
Kosher salt and freshly ground black pepper
Steak and Romaine:
1 tablespoon olive oil, plus more for oiling the grill grates and brushing the romaine
Two 1-inch-thick strip steaks (about 1 1/2 pounds total), trimmed of excess fat
Kosher salt and freshly ground black pepper
2 romaine hearts, split lengthwise and core trimmed
Directions:
For the dressing: Combine the yogurt, Parmesan, lemon juice, mustard, olive oil, oregano, anchovies, garlic, 3/4 teaspoon salt and 1 teaspoon pepper in a blender or food processor and blend until smooth. Cover and chill for at least 30 minutes. The dressing will keep for up to 3 days refrigerated.
For the steak and romaine: Prepare a grill for medium heat. Lightly oil the grill grates.
Sprinkle the steaks with salt and pepper and grill about 5 minutes per side for medium rare. Remove to a cutting board to rest for 8 minutes.
Brush the cut sides of the romaine with the olive oil and season with a pinch of salt and pepper. Grill, without turning, until lightly charred and wilted, about 2 minutes. Transfer to a serving platter. Slice the steaks and place on top of the romaine. Drizzle the dressing over top and serve.
Source: Food Network