By Julie Carrico, Senior Associate Coordinator with The Corvallis Clinic Clinical Research Center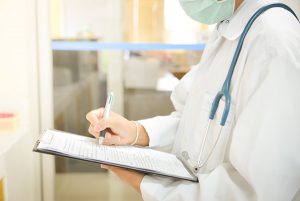 Clinical trials and vaccine research hold great importance in the health care industry, especially now more than ever. These trials are performed in order to discover new treatments for diseases and to understand new ways of detection, diagnosis, and the reduction in the development of these diseases.
Valerie Coomes, a vaccine trial participant for The Clinical Research Center at The Corvallis Clinic says "Initially, I was a little hesitant to take part in a research program, but I believe that was simply because I was in unfamiliar territory. From the start, I was put at ease by wonderful staff and each part of the process was explained in a way that was easily understood. I can say that I am grateful to have been given the opportunity to participate," says Coomes. Patients who enroll in these studies are volunteers who receive small stipends for each study visit. Another vaccine study volunteer, Mary Carper, stated "It was a great study- easy and very rewarding. I would encourage others to be involved in studies because it would benefit themselves and others."
Previous studies that have been done at The Corvallis Clinic Clinical Research Center include those for Prevnar®13 (pneumonia), Shingrix® (shingles), Fluzone® High Dose (flu), and Menactra® (meningitis), among others. Clinical trials are also being done for a vaccine study for COPD patients that could prevent exacerbations (worsening breathing) and for an improved formula of a routine pediatric vaccine. These trials show the medical and scientific community, including the FDA, what does and doesn't work in humans, which cannot be learned in a lab. However, public involvement is the greatest obstacle when performing clinical research.
Michael Chen, M.D., Vincent Gimino, M.D., and Christy Rivers, D.O. all serve as principal investigators for vaccine clinical trials for The Corvallis Clinic Clinical Research Center. Their participation in vaccine medical research has resulted in the availability of new and improved vaccines for The Corvallis Clinic's patients. For families considering study participation, Dr. Rivers says "I think it is always a little bit scary to be part of a study, but it is also exciting. If a family is considering it but has questions, I would encourage them to look into it. We will never have more answers if people don't participate." Our studies are safer now than ever before, and there are more illnesses we can prevent than in the past."
The Clinical Research Center at The Corvallis Clinic has a long history of participation in cutting edge vaccine medical research. A meningitis vaccine trial is planned for later on in 2020 and if a viable and safe COVID-19 vaccine trial becomes available, The Clinical Research Center will gladly participate.
If you'd like to help advance medical treatment and be considered for participation in an upcoming clinical trial, please contact us at 541-766-2163 or research@corvallisclinic.com.