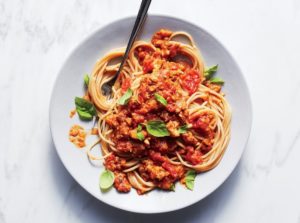 Ingredients
• 2 teaspoons fennel seeds
• 1 teaspoon crushed red pepper
• 2 bay leaves
• 1 ounce dried porcini mushrooms
• 1 1/2 cups warm water
• 3 cups fresh shiitake mushrooms
• 1 cup chopped onion
• 1 cup chopped carrots
• 1/2 cup chopped celery
• 2 tablespoons extra-virgin olive oil
• 1 (8-oz.) pkg. tempeh, crumbled
• 1 1/4 teaspoons kosher salt
• 1/2 teaspoon black pepper
• 5 garlic cloves, minced
• 1 (28-oz.) can whole peeled tomatoes
• 1 cup whole milk
• 1/2 cup dry red wine
• 1 (2-in.) Parmigiano-Reggiano cheese rind
• 2 tablespoons chopped fresh oregano
• 2 tablespoons chopped fresh basil
• 1 teaspoon granulated sugar
• 2 oz. cup Parmigiano-Reggiano cheese, grated (about 1/2 cup)
• 1 1/2 pounds uncooked whole-wheat spaghetti
• 1 tablespoon unsalted butter
How to Make It
Step 1
Toast fennel seeds, red pepper, and bay leaves in a skillet over medium for 2 minutes, stirring often, until fragrant. Cool 10 minutes. Transfer to a spice mill (or mortar and pestle); finely grind. Set aside.
Step 2
Place porcini mushrooms and 1 1/2 cups warm water in a bowl; let stand 15 minutes. Drain, reserving 1/2 cup soaking liquid. Finely chop mushrooms; set aside.
Step 3
Pulse shiitake mushrooms, onion, carrots, and celery in a food processor until finely chopped, 10 to 12 times.
Step 4
Heat oil in a large Dutch oven over medium. Add tempeh; cook 5 minutes or until golden. Add shiitake mixture, salt, and pepper; cook 10 minutes or until softened. Add garlic, ground spices, and chopped porcinis; cook 5 minutes or until mixed well.
Step 5
Pulse tomatoes in a food processor until finely chopped, 8 to 10 times.
Step 6
Stir chopped tomatoes, milk, wine, cheese rind, oregano, basil, sugar, and reserved 1/2 cup porcini soaking liquid into tempeh mixture in Dutch oven. Reduce heat to medium-low, and simmer, partially covered, stirring occasionally, about 1 hour. Remove cheese rind; stir in grated cheese.
Step 7
Cook spaghetti per package directions. Toss with butter to coat; serve with Bolognese; garnish with fresh basil, if desired.
Nutritional Information
Calories 353 Fat 10g Satfat 3g Unsat 6g Protein 16g Carbohydrates 53g Fiber 7g Sugars 6g Added sugars 0g Sodium 475mg Calcium 14% DV Potassium 14% DV
Source: Cooking Light