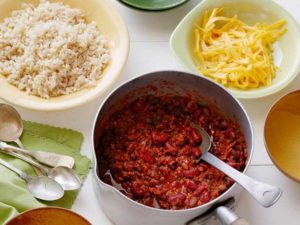 Ingredients
1 tablespoon vegetable oil
1 small jalapeno, minced (with some seeds)
1 small or 1/2 large red onion, finely diced
2 teaspoons red wine vinegar
1 large clove garlic, minced
1 1/4 cups low-sodium vegetable or chicken broth
1 cup canned crushed roasted tomatoes
1 1/2 tablespoons chili powder
1/4 teaspoon Chinese five-spice powder or ground cinnamon, optional 
Two 15-ounce cans beans (such as kidney and black), rinsed and drained
2 tablespoons chopped fresh cilantro
2 cups cooked brown rice
1/2 cup finely shredded extra-sharp Cheddar (2 ounces)
Directions
Heat the oil in a large saucepan over medium-high heat; add the jalapenos, onions and vinegar and cook, stirring, until softened, about 5 minutes. Add the garlic and cook about 30 seconds. 
Stir in the broth, tomatoes, chili powder and five-spice powder if using, and increase the heat to high. Bring to a full boil and cook for 1 minute. Stir in the beans and return to a full boil. Reduce the heat to medium and simmer until just slightly thickened but still soupy, about 5 minutes. Stir in the cilantro. 
Fill each bowl with about 1/2 cup of rice. Ladle the chili on top, sprinkle with the Cheddar and serve.
Source: Food Network