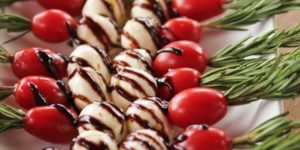 Caprese Skewers with Plum Balsamic Drizzle
• PREP TIME15 min
• TOTAL TIME 20 min
• SERVES 20
Ree Drummond
The Pioneer Woman
These easy skewers feature little bocconcini, fresh herbs, grape tomatoes and plum preserves for an added boost of sweetness.
65 Ratings
INGREDIENTS
20 balls bocconcini (mozzarella balls)
1 cup extra-virgin olive oil
1 tsp red pepper flakes
Kosher salt and freshly ground black pepper
1 (15-oz) jar plum preserves
1 cup balsamic vinegar
20 sprigs fresh rosemary
2 pts grape tomatoes
Special equipment: A squeeze bottle
DIRECTIONS
1. Put the bocconcini in a large bowl with the olive oil, red pepper flakes and some salt and pepper. Cover with plastic wrap and marinate in the refrigerator for at least 1 hour.
2. In a food processor or blender, puree the plums with the balsamic vinegar until smooth. Pour the mixture into a medium pot and bring to a boil over medium-high heat. Turn the heat down to simmer and cook until the mixture has reduced by about half, several minutes. It should be fairly thick, but remember, it will continue to thicken as it cools. When cool, pour it into a squeeze bottle and refrigerate.
3. Trim about 2 inches of the leaves off the bottoms of the rosemary sprigs. Skewer a tomato followed by a bocconcino onto each. Arrange on a platter, cover and refrigerate until ready to serve. Just before serving, squeeze over the plum balsamic drizzle.
Read more at http://www.foodnetwork.ca/recipe/caprese-skewers-with-plum-balsamic-drizzle/18315/#wEaArlecpZaRMx6m.99