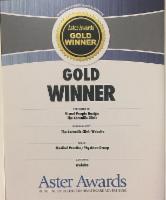 The Corvallis Clinic's website received a 2017 Aster Gold Award by scoring among the top 5 percent of nationwide submissions. In addition, The Clinic's physician recruitment video, The Corvallis Clinic: Where Amazing Careers Take Flight, earned an Aster Silver Award by scoring among the top 12 percent.
The Clinic shares the website award with Visual People Design of Corvallis and the video award with Horsepower Productions of Corvallis.
The 2017 Aster Awards received nearly 3,000 entries from across the United States as well as several foreign countries.  All entries are
reviewed by a panel of industry experts and are scored on multiple criteria with a possibility of 100 total points. Judging criteria included creativity, layout and design, functionality, message effectiveness, production quality and overall appeal.
Participant's entries competed against similar-sized organizations in their specific groups and  categories. The Clinic competed in the Medical Practice/Physician Group.