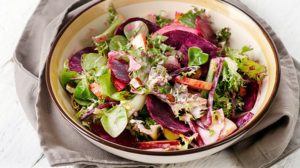 Ingredients
• 1 pound red or yellow beets, peeled and thinly sliced into half moons
• 1/2 cup white balsamic vinegar
• 1/2 cup white wine vinegar
• 5 tablespoons honey
• 2 teaspoons kosher salt
• 1/2 medium-size sweet onion, cut into thin strips
• 1/2 cup extra virgin olive oil
• 2 tablespoons white wine vinegar
• 1 teaspoon spicy brown mustard
• 6 thick applewood-smoked bacon slices, cooked and crumbled
• 1 Gala apple (about 8 oz.), thinly sliced
• 3 cups firmly packed baby arugula
• 3 cups loosely packed frisée torn
• 1/2 cup loosely packed fresh flat-leaf parsley leaves
• 1/4 cup toasted chopped walnuts
Directions
Step 1
Microwave beets and water to cover in a microwave-safe bowl at HIGH 8 to 10 minutes or until crisp-tender. Let stand 30 minutes. Drain and rinse beets.
Step 2
Stir together white balsamic vinegar, next 3 ingredients, and 2 Tbsp. water; pour into a large zip-top plastic freezer bag. Add beets and onion. Seal and chill 4 hours.
Step 3
Drain beets and onion, reserving 1/3 cup pickling liquid. Discard remaining liquid. Whisk together olive oil, next 2 ingredients, and reserved 1/3 cup pickling liquid until smooth. Add salt and pepper to taste. Toss together bacon, next 5 ingredients, and desired amount of dressing. Serve with beets, onions, and remaining dressing.
Source: My Recipes