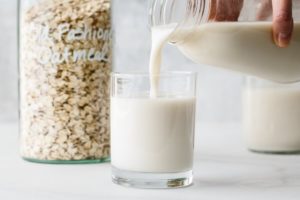 Ingredients
1 cup rolled oats
4 cups ice cold water
Optional
1-2 tablespoon maple syrup
1 teaspoon vanilla extract
pinch of salt
 Ingredients
Add oats, water, and any additional sweeteners to a high powered blender. Blend for 20-30 seconds. Make sure to not over-blend.
Strain the oat milk mixture by pouring through a nut milk bag or thin towel over a large mixing bowl or pitcher. If you'd like, you can double strain the mixture to make sure all the sediment is removed.
Transfer the oat milk to a sealed container and store in the fridge.
Nutritional Information
CALORIES: 19kcal, CARBOHYDRATES: 3g, PROTEIN: 1g, FAT: 1g, SATURATED FAT: 1g, SODIUM: 1mg, POTASSIUM: 18mg, FIBER: 1g, SUGAR: 1g, CALCIUM: 3mg, IRON: 1mg
Source: Down Shiftology