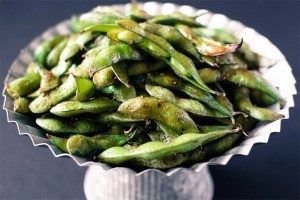 Ingredients
 16 ounces frozen edamame in the shell, thawed
 1 tablespoon olive oil
 1 teaspoon Japanese togarashi seasoning
 ½ teaspoon smoked sea salt
 Juice of ½ lime
Directions
1. Preheat oven to 425° F. Line a baking sheet with parchment paper.
2. Place edamame on the baking sheet. Drizzle with olive oil. Sprinkle with togarashi and sea salt. Toss to combine and evenly coat edamame pods.
3. Roast for 10 to 12 minutes until slightly blackened, stirring halfway through cooking.
4. Remove from oven and sprinkle with lime juice, tossing to coat. Serve hot or cold: leftovers are delicious and will keep in the refrigerator for up to 3 days. Makes 2 cups, serves 4.
Cooking Note
 You can make this recipe using spice combinations other than togarashi, such as: smoked paprika and kosher salt, furikake and toasted sesame oil, or chaat masala spice blend.