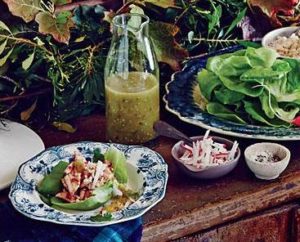 Spicy Turkey Lettuce Wraps
Recipe adapted from CookingLight Photo: Peter Frank Edwards
Time: 25 min
Nutritional Info:
Yields 10 wraps (5 servings)
Serving size: 2 wraps with 1.5 teaspoons salsa
-Calories 180
-Fat 3.8g
-Sat fat 0.4g
-Protein 18g
-Carbohydrate 18g
-Fiber 2g
-Sodium 192mg
Ingredients
• 1 tablespoon safflower or canola oil
• 1 medium yellow onion, finely chopped
• 2 garlic cloves, minced
• ½ cup water
• 3 tablespoons cranberry sauce
• 2 teaspoons adobo sauce
• 1 small chipotle chile (canned in adobo sauce), chopped
• 2 cups cooked shredded skinless turkey breast (leftovers work great!)
• 1 cup cooked brown rice
• 10 Bibb or Romaine lettuce leaves
• 3 julienne-cut radishes
• 1/3 cup cilantro leaves
• ½ cup tomatillo salsa or salsa verde
Directions
Step 1: Heat a large skillet over medium-high heat. Add 1 tablespoon oil to pan; swirl to coat. Add
onion; cook 4 minutes or until soft. Add garlic; cook 30 seconds or unti fragrant. Add 1/2 cup
water, cranberry sauce, adobo sauce, and chipotle chile.
Cook 4 minutes or until mixture thickens. Stir in turkey; cook 2 minutes or until thoroughly
heated. Remove from heat; set aside.
Step 2: Divide rice and turkey mixture evenly among lettuce leaves; top evenly with radishes and
cilantro. Serve wraps with salsa.