By Tony DeMeo
Content Marketing Coordinator
"Hi, I'm Dr. Athay."
Those were the first words Steve Athay, M.D., spoke when he greeted his first patient on his first day as an internist at The Corvallis Clinic in 1981. The then 30-year-old got a response that he has enjoyed retelling often since.
"Oh, sonny," the 85-year old female answered, "you're way too young. I'm going to get another doctor."
And even after assuring her of his medical bona fides, which included a post-residency stint at Redstone Arsenal Hospital in Alabama to fulfill a U.S. Army commitment, she remained unmoved. She walked out of the exam room and went and got another Clinic doctor. An older one.
It didn't get any easier, as he was taking over the practice of Clinic co-founder Kurt Aumann. "He was an icon here," says Dr. Athay, who retired on Aug. 29. "Everybody loved him. I met him, and he was a really nice man. It was a little tough the first few years."
But he just kept building his practice, and it all worked out. At the time of his retirement, he had about 100 patients over 90. "We've all grown old together," he says.
The Vancouver, Wash., native came from a long line of dentists on his mother's side, so in his first year at Oregon State University he was in pre-dental studies. "I thought I'd be dentist. I like science, but it turns out I am not very good with my hands; I not a mechanical person. I am better at talking and at figuring out things. I thought being a physician would be much more to my personality." He eventually changed to premed.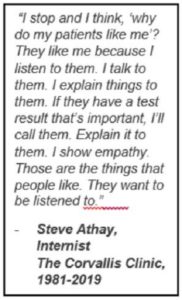 Dr. Athay's path to OSU was paved partly by his father and brother, who both studied engineering there. Also, as a Washington state champion discus thrower, he was lured by OSU's formidable track program, which at that time produced such athletes as Olympians Tim Vollmer, a discus thrower, and Dick Fosbury, the 1968 gold medalist who changed high jumping forever with his signature "Fosbury Flop."
After a "reasonably successful" collegiate discuss throwing career – he won a few meets and his longest throw was about 180 feet – he graduated from OSU in 1972, and then earned his Doctor of Medicine four years later from the University of Oregon Medical School, in Portland, now Oregon Health & Science University (OHSU). He completed an internal medicine residency at Providence Hospital, in Portland (now Providence Medical Center) and when his Army commitment ended, he had two offers to mull over: head the Internal Medicine Teaching Program at Providence or replace Dr. Aumann at The Clinic.
His preference for patient contact won out.
"I knew I wanted to do clinical practice, so I decided to come to The Clinic. I loved The Clinic. I came here because of the quality of the people. The Clinic has always provided quality care. It's a great organization. It was such a great opportunity. And my wife, Vickie, and I loved Corvallis."
Dr. Athay says primary care gets better the longer you practice it because you get to know your patients. "In Corvallis, you see people around town. I belong to Timberhill Athletic Club, and every time I work out I see patients that I know. You go to the store and see them. It's a nice community. I like working with people, and it's all about helping them." He has especially enjoyed being the primary care "gate keeper," helping to guide patients through specialty care and navigate healthcare system better.
It's a care system in which he has observed many changes in technology occur from when he began in 1981. "When I started ultrasound was just getting beginning. There was no CAT scan, no MRI. There was no laproscopic surgery, which is wonderful. Gall bladder was a four-day hospital stay. Now it's outpatient. There was heart surgery, but no stents. Heart attacks usually meant 10 days in the hospital. Now, if you have a heart attack, they put a stent in and you're home in two days. Stents are a marvelous procedure to save heart patients."
But in some respects, however, he believes there can be too much reliance on technology, such as when some providers eschew the traditional history and physical exam. "If you really know how to do a history and physical exam, you can diagnose most things and know what to do. But now when someone comes in short of breath a provider may say, 'OK, let's do this test and then we'll talk.' Well, they sort of miss the basics of medicine, which are so important."
And over the years the way medicine is practiced has gotten more challenging. "When I first came, there was no pre-authorization, no regulations; you just ordered tests and medicine, and it was done. Nowadays everything has to be pre-authorized."
He attributes his practice longevity partly to good health – which he tries to maintain with a balanced exercise regimen of swimming, running, weightlifting and biking – and the advent of the hospitalist program in 2006 at Good Samaritan Regional Medical Center. A hospitalist provides general medical care for hospitalized patients. "We're on telephone call," he says of his fellow primary care providers, "but we don't have to admit patients in the middle of the night and then work the next day. That's hard to do. It just makes it easier to keep practicing because it's just an office practice."
Ironically, what also factored in the postponing of Dr. Athay's retirement is the fact that more internal medicine residents are opting to become hospitalists rather than go into primary care, creating somewhat of a shortage of office internists. "It took The Clinic two years to recruit a replacement. I said I would work until we get somebody. I couldn't just walk away. Patients have to have somebody to go to."
But despite having hospitalists, he still visits patients in the hospital. "I walk over in the morning and say high. Takes me 15 minutes. In the hospital you have medical students and residents. Patients don't know who their doctor is or what's going on. It's quite complicated for them. I just think it's important to stay in touch. People really appreciate that."
He still plans to keep his license for a couple of years – "just in case" – but has no plans to work. "My days have been 'go, go, go," but I've got to learn to relax." He plans to travel, visit his daughter and four grandchildren, do activities with friends, and go to Beaver games.
"I'm going to miss my patents. I've been through so much with patients who've lost spouses. I have taken care of four generations in one family and lots of three generations in others. In 38 years, you really get to know people.
"I stop and I think, 'why do my patients like me'? They like me because I listen to them. I talk to them. I explain things to them. If they have a test result that's important, I'll call them. Explain it to them. I show empathy. Those are the things that people like. They want to be listened to."
Want proof? Read this survey comment from one of his patients:
"I absolutely ADORE Dr Athay. He's my hero. He greets me like a friend. He listens, addresses the problem, discusses his diagnosis and medications, asks if I have questions, says goodbye, shakes my hand and I leave. He's THE BEST doctor I've ever had. He's amazing. Trust. That's the most important quality I look for in a relationship with any physician. And Dr Athay has earned mine."
Along with thousands of others.