By Julie Carrico, MBA, CCRC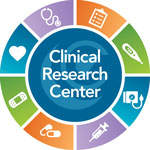 The duration of our clinical studies can range from as short as one day onto three  or more years. In the long-term studies we really get to know our patients and likewise, they get to know us pretty well.
I've had patients bring in their vacation photos to share and they in turn have asked me about which colleges my daughters have chosen to attend. Having this relationship with our patients is wonderful because clinical trials require effective two-way communication; we obtain quality trial data by having a mutually comfortable relationship with our patients.  Plus, it's interesting to engage with people I would not have otherwise met!
Because clinical trials are such a collaborative process, our study coordinators strive to find a balance between the professional and personal aspects of our patient relationships.  That's one reason why I like our department video so much.  In the video one of our nurses states "with our team, we have the time to get to know our patients to provide the care they need."
When I hear this line in the video I always think of one particular patient visit.  An older man who was in one of our long studies had an appointment for a routine clinical study visit.  I knew that his wife had recently passed away.  We were essentially done with the required procedures for the study visit when this patient began to talk about his dog.  I think he knew I am a dog person and we chatted away for about 10 minutes.  It was the most animated I'd seen him since his wife's passing.  I sat there as he talked and was thinking that I should wrap up the visit and get started on the paperwork.  Then I realized that our dog-story chat – in essence, an example of "the time to get to know our patients to provide the care they need," to quote our nurse – was just what this patient needed. Even better, I knew that my department manager would completely agree!
If you'd like to be considered for one of our short- or long-term clinical studies please contact us.  You don't have to come in with a dog story though…I like cats too!
The Clinical Research Center is currently seeking volunteer patients in studies for Alzheimer's disease and Type 2 diabetes.
If you are interested in learning more about clinical trials, contact the Clinical Research Center at 541-766-2163, or send an email to research@corvallisclinic.com or fill out our Research Study Information Request form. And, don't forget to follow us on Facebook at https://www.facebook.com/corvallisclinicresearch.
– Julie Carrico is Associate Coordinator of The Corvallis Clinic Clinical Research Center and a Certified Clinical Research Coordinator