By Mona Goudarzian, Marketing & PR Coordinator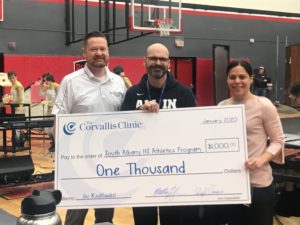 CORVALLIS — Angela Passanise, D.O. and Matt Taylor, M.D. of The Corvallis Clinic's Orthopedic and Sports Medicine Department, in collaboration with The Corvallis Clinic's Foundation, presented a donation of $1,000 to the South Albany High School Athletic Department on February 28th.
Corvallis High School, Santiam Christian High School and Philomath High School have also received donations from the 2019 race proceeds. The donation is for the recognition of SHS students, families and staff who participated in The Clinic's October 5, 2019 "Run for the Health of It" Annual 5K Run/Walk. The race was founded by Dr. Angela Passanise, Orthopedic Surgeon of The Corvallis Clinic's Orthopedic and Sports Medicine Department.
"This was a fun and great opportunity to participate in the race, and we really appreciate all of the things Corvallis Clinic provides our kids and staff," says Jason Platt, Athletic Director for South Albany High School. "Our race was started a year ago to promote good health and to support local high school sports programs. Proceeds from the race are distributed to the schools with the greatest number of race participants. We've been thrilled by the growing community support for the race, and are honored to be able to contribute to four different schools this year," says Dr. Angela Passanise.
The Corvallis Clinic's goals are to increase more race participants, donations to high school athletic programs and award larger donations to athletic departments for the 2020 Run for the Health of It 5k.
The Corvallis Clinic is an independent, physician-led medical group, a comprehensive multi-specialty organization, serving Benton, Linn, and Lincoln counties. It offers more than 100 board-certified physicians and advanced clinical professionals in 27 specialties at 11 area locations. As the fourth-largest area employer, The Clinic has more than 600 employees.