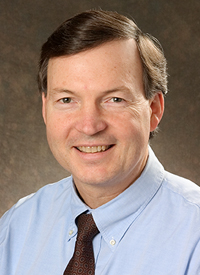 Currently not accepting new patients
Edward Wolf, MD, PhD, is an Internal Medicine specialist at The Corvallis Clinic Asbury Building. As an Internal Medicine physician, Dr. Wolf specializes in preventing, diagnosing, and treating adult diseases. With his extensive medical expertise and research background, Dr. Wolf provides exceptional patient care and treatment for various medical conditions.
Language(s) - English
Residency
Baylor College of Medicine, Houston, TX
Education
M.D., Loyola University, Stritch School of Medicine, Chicago, IL - 1994, Ph.D. in Biochemistry, UCLA, 1981
Certification
American Board of Internal Medicine
Patient Ratings
The Patient Rating score is an average of all responses to care provider related questions on the Patient Satisfaction Survey.
About Survey Responses are measured on a scale of 1 to 5 with 5 being the best score.
---
Comments From Patients
Mar 2018
Ed Wolfe is always patient-oriented, attentive to my concerns and my health needs, and is able to explain clearly and patiently the results of my tests (blood test, urine sample, x-rays, etc.). He offers excellent, well-informed recommendations for maintaining my good health. Overall, he's a superb physician.
Mar 2018
Excellent provider. One of the most knowledgeable medical professionals I have dealt with.
Mar 2018
Dr. Wolf is as good as a doctor you can find; excellent in all areas.
Feb 2018
Dr. Wolf is the kind of doctor everyone would like. He comes in the room, greets you with a smile, sits down and in his kind patient manner asks how he can help you. Right away you're feeling any anxiety goes away, and it's easy to explain to him everything that is going on in your body. He always has the correct answer to help you!
Feb 2018
Dr. Wolf is a wonderful physician.
Feb 2018
Dr. Wolf has been my primary physician for several years. I rely on his advice without hesitation.
Feb 2018
This was my annual checkup. Dr. Wolf is always calm & caring with good advice & not a lot of prescriptions.
Feb 2018
He is very knowledgeable. He listens carefully. He separates good and bad.
Feb 2018
I've always found Dr. Wolf to be a good listener and to be easy to understand. I've recommended him to others.
Feb 2018
Excellent Doctor. Have seen Dr. Wolf for a very long time and will continue seeing him.
Feb 2018
Dr. Wolf is smart, kind, & caring. Also a good listener.
Jan 2018
Doctor Wolf is a very good doctor and I like him very much. I feel that I can believe everything he tells me and he has doctored me for so long that he knows me & my body. I feel fortunate to have him as a doctor. I would never try to find another doctor even tho it is a long drive to Corvallis.
Dec 2017
I had a very good experience with my first visit, both with The Corvallis Clinic and Dr. Wolf. Additionally, a follow-up phone call received from Dr. Wolf's assistant, Misty, provided me very helpful information.
Dec 2017
I am a new resident in Corvallis. This was my first visit to the Corvallis Clinic. The facility has an excellent appearance and the reception area looked immaculate. My appointment with Dr. Wolf was to complete my application to join his panel of patients. Dr. Wolf took the time he needed to listen to me and record my existing health condition. I am very pleased that he will be my primary health care provider.
Dec 2017
I always get good, thorough explanations from Dr. Wolf. He is very quick to follow up after test results. He is great in spending time with me as I work through health issues and he knows my family as well. I really feel like we are a team. I recently had a new diagnosis and Dr. W was very reassuring and included my family member as a member of the team, so to speak. Both I and my husband consider Dr. W a positive and stable informative piece as we both deal with our health issues as we age. We must say we count on his expertise and trust his judgment.
Dec 2017
Dr. Wolf is an excellent physician, always get good service from him and his staff.
Dec 2017
Dr. Edward Wolf is professional, pleasant, excellent provider.
Dec 2017
He is a trusted physician, seems up-to-date with modern medicine.
Nov 2017
I am very pleased with Dr. Wolf's (1) patient explanations of diagnosis, prognosis, and treatment of my conditions, (2) balanced recommendations for prescriptions and lifestyle changes that may improve my health, thereby empowering me to take greater responsibility for my own health.
Nov 2017 *Dr. Wolf is very thorough, attentive and professional.
Nov 2017
Dr. Wolf is the BEST. He is very professional, yet at the same time very personal. You know when you leave his office that your health is his top priority. Corvallis Clinic is extremely lucky to have him on its staff!!
Nov 2017
Dr. Wolf is an excellent primary care physician.
Nov 2017
Dr. Wolf is a very good explainer. I appreciate his candid minimalist treatment advice.
Oct 2017
I was able to get in amazingly fast and always look forward to meeting with Dr. Wolf. He is very kind and caring and never rushes through an appointment. He takes time to answer any and all questions and makes sure all is clear. I am very pleased to have him as my primary care physician.
Oct 2017
Dr. Wolf is a fine, brilliant doctor; really appreciate having him as my doctor.
Oct 2017
Dr. Wolf is our family doctor. We have a great respect for his medical knowledge and his caring ways. He is our choice!!
Oct 2017
Dr. Wolf has been my clinic doctor for years monitoring and treating my health issues. He is a wonderful doctor!
Oct 2017
Dr. Wolf is always knowledgeable and working to resolve problems.
Oct 2017
I have had new medical problems during the past year. I appreciate my primary physician, Dr. Wolf, scheduling routine checks oftener than once a year.
Oct 2017
Dr. Wolf has a calm demeanor which helps make the appointments less stressful. He is a good listener and makes sure all questions are answered to the patient's satisfaction and recommends treatment as necessary. He is one of the best care providers I have ever had.
Sep 2017
Dr. Wolf prefers using treatments that are tried and true – He doesn't like to use new, unproven medications, but prefers the option that has fewer potential side effects. They are also less expensive. This is my preference!
Sep 2017
Dr. Wolf is an excellent doctor and I am happy to be in his care and working with him on my health and well-being.
Sep 2017
Dr. Wolf has an excellent way of pacing during my appointments. He starts with a reassuring comment that relaxes me as he is good at noticing the patients state of mind. He is always thorough with covering the results of labs and pauses often to answer concerns. Dr. Wolf is good at explaining all items in layman's terms. This visit I am required to have additional lab work to resolve an ongoing issue and I found him to be calm and informative without giving me worrisome concern, even though he realizes & recognizes that I am concerned. I am happy to call Dr. Wolf my favorite doctor and look forward to his continued care for both me and my husband!
Sep 2017
I feel very fortunate to have Dr. Edward Wolf as my primary care physician. He is the best in every way!
Sep 2017
I couldn't ask for a better physician than Dr. Wolf. He is very knowledgeable; he listens to me; he is patient; he answers all questions I ask.
Sep 2017
I like Dr. Wolf a lot and he provides excellent care for me and my husband. Always a good experience when having an appointment with him
Aug 2017
Dr. Wolf is very nice. I am pleased w/his care.
Aug 2017
Great visit with Dr. Wolf – I appreciate his calmness his willingness to listen to me.
Jul 2017
Dr. Wolf was congenial, engaged, and informative during my annual physical. His attention was fully focused on me. The office staff was also very courteous and efficient.
May 2017
Dr. Wolf is a great doctor and I'm very glad I found him when I was looking for a new primary care physician.
Jun 2017
Dr. Wolf always goes thru my reports on my blood test and also always review my medications. He is very thorough when I go in for my yearly exam.
Jun 2017
Dr. Wolf is the best possible provider – gives wonderful explanations and assurance.
Jun 2017
Dr. Wolf is an extraordinarily skilled physician. Not only is he trained as an MD, but he also has a Ph.D. in Bio-Chemistry and is very knowledgeable about my lab results and can thoroughly explain the numbers to me – in terms of the present results and over time. The same applies to any medications he has or might, in the future,
prescribe for me. He is friendly, personable, and I trust his knowledge and judgment.
May 2017
Dr Wolf is the best doctor I have ever had. He listens to me, answers all my questions in a way I can understand, is a gentleman, and genuinely cares about me and my health. I can't say enough good about him!
May 2017
Dr. Wolf is excellent in every way.
May 2017
Dr Wolff shows an overall plan for my health. That's hard to find today.
May 2017
I always feel that Dr. Wolf has my best interests in mind. He is thoughtful, listens well, and always responds to any questions. I trust him completely. He's an excellent care provider.
May 2017
Dr. Wolf is one of your best with attributes of patients, understanding, and professional competence. He is one of the best.
Apr 2017
I've never had a bad experience with this doctor.
Mar 2017
I am hoping Dr. Wolf is my Doctor for many more years.
Feb 2017
I have always enjoyed working with this provider.
Feb 2017
Dr. Wolf is a very skilled, caring, compassionate professional. I am highly satisfied with his care.
Jan 2017
Dr. Wolf is very kind and explains any questions I have. He is also very respectful of me. I am so happy that he agreed to be my primary care provider.
Dec 2016
Great doctor–very friendly and helpful.
Dec 2016
I recommend Dr. Wolf to all my friends. I feel extremely fortunate to have chosen him as my primary doctor when I moved to Corvallis without any recommendation from anyone.
Nov 2016
Dr. Wolf always comes in the room knowing everything on my history & chart. He has become a part of our family.
Nov 2016
I have been seeing Dr. Wolf for many years. He is a wonderful provider.
Oct 2016
I have been VERY HAPPY with Dr. Wolf and his staff. He is kind and caring and listens.
Oct 2016
Dr. Wolf explained all of my lab work so that I understood the results and even made a change in one of my RX when I left I felt very good about my visit
Sep 2016
Dr. Wolf is always good and thorough and friendly
Sep 2016
Dr. Wolf is the BEST doctor my husband and I have ever had. He treats us with respect and we always know that he cares about our health. The Corvallis Clinic is very lucky to have such an outstanding doctor.
Sep 2016
Nonjudgmental, easy to be with (I requested a female MD but none open or w/availability before Fall. Dr. Wolf was an excellent alternative.)
Aug 2016
I was very impressed with the amount of time Dr. Wolf spent me and the quality of the time spent.
Jun 2016
This was my first visit to Dr. Wolf, I was fit into his schedule the same week. I am excited to have him as my Dr and appreciated his concern and attention!
Jun 2016
Ed Wolf is an outstanding M.D. Excellent breadth and depth of knowledge.
Jun 2016
Always feel that I am under the care of a very good clinic & doctor.
May 2016
Dr. Wolf and his staff always exceed all expectations.
May 2016
Nobody better than Dr. Ed Wolf.
Apr 2016
Dr. Wolf – an excellent doctor, listens to concerns.
Apr 2016
I felt Dr. Wolf was very thorough with taking care of my health concerns and questions.
Apr 2016
I have been going to Dr Wolf for many years prior to going to another insurance provider.When I returned, Dr. Wolf accepted me back into his care & he still remembered me & my general health condition even though he hadn't seen me in many years.
Apr 2016
Dr. Wolf is an extraordinary care provider who is knowledgeable, caring, and responsive. I have recommended him to others and all of them have had very positive experiences with him as a physician. He is one of my favorite primary care doctors I have ever encountered.
Mar 2016
Dr. Wolf is an excellent Dr. – Always ready to ANSWER med questions
Feb 2016
I feel very fortunate to have Dr. Wolf as my primary care physician. As I am in the later years of my life, I'm confident that he will continue to give me the best care and advice no matter what problems will arise.
Feb 2016
Dr. Wolf is an excellent physician. He asks questions, he answers questions, he conducts a thorough exam. I am always pleased with his care and concern for me, a long time patient. My wait times are never long and the staff is always kind and courteous.
Feb 2016
Dr Wolf has a very professional office and he does a great job at explaining information so that I can understand. I had a new patient exam with him and felt very comfortable selecting him as my new PCP.
Feb 2016
Dr. Wolf took the time to review my medical history and learn about me. I really appreciated his time and it seemed like he really cared about me and my medical information.
Jan 2016
Dr. Wolf has helped me to maintain and try to improve my health. I believe that it is me who is responsible for my health. Dr. Wolf has encouraged me often on how to achieve better health.
Jan 2016
The overall service at the Clinic has really improved and Dr. Wolf is a great physician.
Jan 2016
After having a couple of doctors in the last few years who showed little interest & care in me as a patient, I was very grateful to become a patient of this particular provider. He is the best there is, and I am very fortunate that he is my doctor.
Jan 2016
Dr. Edward Wolf is the best doctor I have ever had and I have had wonderful doctors at the clinic. He calls right away with test results and works with me to maximize my health.
Jan 2016
Dr. Wolf has been my doctor for years and has always been kind, caring and responsible and has been responsive to my health care needs, both in his care and in referrals.
Jan 2016
Dr. Wolf is an excellent health care provider. I have never considered him less than one of the best ever. I would recommend Dr. Wolf to anyone needing medical services.
Click on the appropriate link below to enter your provider's telemedicine waiting room for your scheduled appointment.