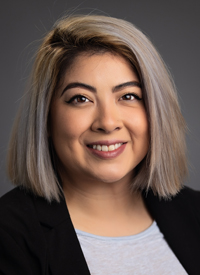 "Anytime I help a patient through an injury, seeing the change in them because they are no longer in pain is the best feeling."
Language(s) - English
Jessica Vega, PA-C, was born and raised in New Mexico and grew up in Arizona. She'd always known she would have a career focused on helping people. After a job in an orthopedic office in high school, she knew she wanted to pursue medicine.
"When I started working in orthopedics, I was amazed at how the body heals injuries. Seeing the progress on x-rays and in how the patient feels is very rewarding. I tried to like other areas of medicine, but none of them compared to orthopedics for me." Having been active in the weight room and with her background in kinesiology, Ms. Vega became particularly interested in the biomechanics of injuries and how the mechanism of injury can affect the healing process.
When asked about her approach to patient care, Ms. Vega responded, "No two patients are the same. I always aim to get to know my patients so I can come up with a treatment plan that is achievable for the individual, not just their injury." She would like her patients to describe her in a way that indicates trust, mutual respect, and knowledge.
Outside of patient care, Ms. Vega does Olympic weightlifting, loves listening to music, going to concerts, playing tabletop games, and playing with her dog.
Education
Master of Medical Science, Physician Assistant Studies, Midwestern University, 2021; Bachelor of Science, Kinesiology, Arizona State University, 2011
Experience
Cactus Pediatric Orthopedics, Gilbert, AZ, 2021-2022
Certification
National Commission on Certification of Physician Assistants