Note: To view a video of Dr. Kolchugina (kol-CHOO-guhna) talking about her practice and herself, go to Galena Kolchugina, M.D.
CORVALLIS — Galena Kolchugina, M.D., is the newest pediatrician to join The Corvallis Clinic. She will begin seeing patients in late August. To schedule an appointment, call 541-754-1278; to request an appointment online, go to New Patient Appointment Request.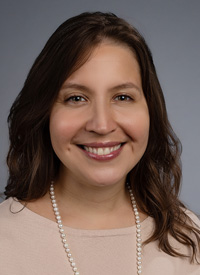 Dr. Kolchugina (kol-CHOO-guhna), who is originally from Corvallis, comes to The Clinic from Health Point Medical Clinic, in Des Moines, WA, where she had practiced since 2015. She is certified by the American Board of Pediatrics.
She said she decided to become a pediatrician because of the relationships she can build over time. "I see kids from when they are tiny, helpless beings up to when they are pre-adult people with plans and futures."
And she has returned to the mid-valley to continue to develop these relationships. "It's a way for me to contribute back to the community where I grew up and has made me who I am."
Dr. Kolchugina completed her residency at Harbor UCLA Medical Center, Department of Pediatrics, in Torrance, CA, in 2015. She earned her Doctor of Medicine from Oregon Health Science in Portland in 2012.
She said her approach to care is based on looking at the mind and body as a whole and avoiding preconceived notions. "A healthy body and healthy emotional state go hand in hand. And it's so important to step back and really listen and work with patients and their parents to determine the best plan of care."
She also earned a Master of Public Policy from UCLA, Los Angeles, in 2007 and a Bachelor of Science in Symbolic Systems – Human-Computer Interaction from Stanford University, Stanford, CA, in 2002.
Dr. Kolchugina and her husband have a young child. She enjoys music – she once performed in a Russian folk band – running, reading and the outdoors.
The Corvallis Clinic, an independent, physician-led medical group, is a comprehensive multi-specialty organization, serving Benton, Linn and Lincoln counties.  It offers more than 100 board-certified providers and advanced professionals in 27 specialties at 10 area locations.  As the fourth-largest area employer, The Clinic has 600 employees.