By Julie Carrico, MBA, CCRC
The Clinical Research Center recently posted a heartwarming story on our Facebook page about a woman who spent months knitting hats to keep strangers warm this winter. You can see the original post by clicking here. The creator of the hats prefers to remain anonymous.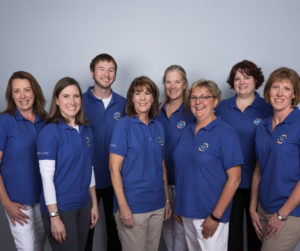 The Facebook post received a lot of attention and was one of our more popular posts in terms of garnering Facebook likes, loves, and shares. As I considered how much our audience reacted to this story of selfless giving, I had an "aha" moment. My aha moment was: "Of course, those who follow the Clinical Research Center love a story about selfless, anonymous giving because clinical research volunteers are cut from the very same cloth"!
Our volunteers overwhelmingly participate in research studies because they hope it might help somebody – perhaps even someone in their own family. And of course, their participation is very anonymous (HIPAA anyone?). So just like the knitter we posted about, our research volunteers are giving anonymously to their community in a way that might have untold benefits to countless people!
Just to be clear, study volunteers don't enter studies with the expectation of great sacrifice. The Clinical Research Center explains that even though the test treatment may not benefit them directly, they will receive treatment equal to the current standard of care for their condition. We do not participate in studies where it is permissible for patients to be untreated when treatment is necessary. And, our volunteers receive a modest monetary stipend for each study visit completed, although most are surprised to learn this; some even try to give it back, and we have to explain that we can't accept it!
If you've ever thought about how you can give back to your community, clinical research may be just the ticket. Here is a link to a website where you can search for studies.
The Clinical Research Center is currently seeking volunteer participants in studies for reducing cardiovascular risk in obese patients with existing heart disease and children 5-11 who are allergic to house dust mites. Click here if you'd like to be contacted about one of these studies.
If you are interested in learning more about clinical trials, contact the Clinical Research Center at 541-766-2163 or send an email to research@corvallisclinic.com. Or, follow us on Facebook at https://www.facebook.com/corvallisclinicresearch.
Julie Carrico is a Senior Associate Coordinator with The Corvallis Clinic Clinical Research Center.