Philomath Family Medicine is celebrating its 45th anniversary as a clinic and 29 years as part of The Corvallis Clinic.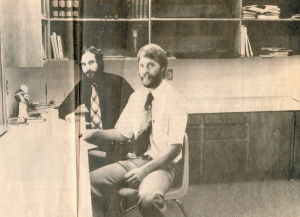 Philomath Family Medicine was founded in 1977 by David Grube and David Cutsforth, two young doctors fresh out of medical school at the University of Oregon with three years of service to the National Health Service Corps under their belts. They helped build Philomath Family Medicine into the successful and highly regarded practice it is today. Both doctors retired from the practice in August 2012 after three decades of serving the Philomath community. Their original practice has expanded over the past decade, and their legacy of providing excellent healthcare to Philomath is continued by Lauren Gray, DO, Lorri Hendon, DO, Curtis Black, MD, and Shawn Foley, MD.
Philomath Family Medicine looks forward to continued growth in the coming year. They have acquired a new building at 500 Main Street in Philomath, where they expect to move in Summer 2023. This larger space enables them to bring on additional providers, two of whom will join the clinic in Fall 2022. Katherine Dunlevy, PA-C will join the clinic as a primary care provider on November 9th, and Cassandra Brown, FNP-C will join the clinic as a primary care provider on November 30th.
About The Corvallis Clinic
The Corvallis Clinic is an independent, physician-led medical group and a comprehensive multi-specialty healthcare organization serving Benton, Linn, and Lincoln counties. It offers more than 100 board-certified healthcare providers and advanced clinical professionals in 25+ specialties at multiple locations.