CORVALLIS — The Corvallis Clinic and Western Oregon University have announced that The Clinic is the new official provider of medical care for the university's athletic department.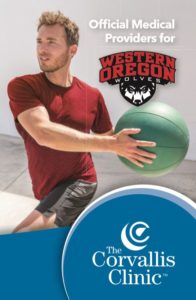 "I'm delighted to be entering a partnership with The Corvallis Clinic," said Curtis Campbell, WOU's Executive Director of Intercollegiate Athletics. "Our goal at WOU is to give our students a great athletic experience and medical treatment is a part of that experience. With its impressive facilities, doctors and services, The Clinic, I believe, will provide our student-athletes with excellent medical care."
Led by providers in its Orthopedic Surgery & Sports Medicine and Physical Therapy departments, The Clinic manages treatment of sports-related injuries and illnesses for WOU student-athletes competing in 13 NCAA Division II sports. The Clinic also provides pre-participation physical exams, facilitation of surgery, coordination of rehabilitation, and medical coverage at some athletic events.
"The Corvallis Clinic is thrilled to be the provider of choice for Western Oregon University and its fine student-athletes," said Ed Kelly, The Clinic's Chief Executive Officer. "These young men and women are in good hands with our expert clinicians."
Among these providers are:
WOU has captured 36 regular-season Great Northwest Athletic Conference championships since its transition to NCAA Division II in 2000. In 2017-2018, the university ranked 48th in the Learfield Directors' Cup Standings, its highest NCAA Division II finish in school history. The Learfield Directors' Cup uses a scoring system as a measure of the highest performing athletic programs in the country.
WOU sponsors the following NCAA Division II sports:
Fall: Men's Cross Country, Women's Cross Country, Football, Soccer, Volleyball
Winter: Men's Basketball, Women's Basketball, Men's Indoor Track & Field, Women's Indoor Track & Field
Spring: Baseball, Softball, Men's Outdoor Track & Field, Women's Outdoor Track & Field
The Corvallis Clinic, an independent, physician-led medical group, is a comprehensive multi-specialty organization, serving Benton, Linn and Lincoln counties.  It offers more than 100 board-certified physicians and advanced clinical professionals in 27 specialties at 10 area locations.  As the fourth-largest area employer, The Clinic has 600 employees.